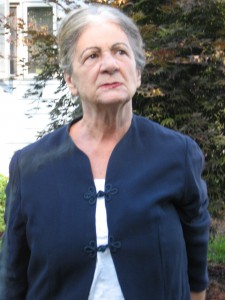 A Dramatic Portrayal of Israel's Iron Lady with scenes from her extraordinary life.
Written and performed by RoseLynn Katz
Directed by David Novak
"Powerhouse Performance!"
-Barbara Blake, Asheville Citizen Times
You will first meet Golda as she serves matzah ball soup to her guests, then you'll go back in time with her to when she was a terrified child witnessing a Russian pogrom, on to America where she becomes a gutsy young activist, as a pilgrim to Palestine in 1921 to work on a kibbutz, her rise to power in the all male world of international politics, her meeting with world leaders as well as (yes, it's true!) Elvis Presley, becoming Prime Minister of Israel, then fast forwarding to the present where she gives her opinion of Israel's challenges today.
Click here to check out RoseLynn's website and get a peek at scenes from the show!
 Click here to read the article about the show in WNC Woman.
Purchase Tickets Online
...or call us at (828) 239-0263. We're here to help!
<h2>Seating / Pricing</h2>
<img class="size-full wp-image-987″ src="http://www.ncstage.org/wp-content/uploads/2014/06/ncstage_seating2014.png" alt="ncstage_seating2014″ width="700″ height="217″ />
<img class="size-full wp-image-989″ src="http://www.ncstage.org/wp-content/uploads/2014/06/key_orange.png" alt="key_orange" width="20″ height="20″ /> $14.00
<img class="size-full wp-image-990″ src="http://www.ncstage.org/wp-content/uploads/2014/06/key_purple.png" alt="key_purple" width="20″ height="20″ /> $18.00
<img class="size-full wp-image-988″ src="http://www.ncstage.org/wp-content/uploads/2014/06/key_blue.png" alt="key_blue" width="20″ height="20″ /> $24.00