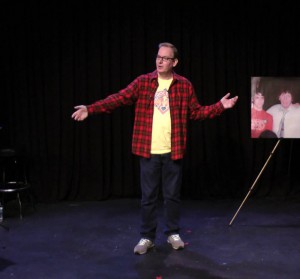 In his interactive show Ask a Sex Abuse Survivor childhood sexual abuse survivor Michael Broussard shares the story of the abuse he suffered as a child and of his path to healing as an adult. Along the way, he also invites audience members to ask questions, make observations, and share their own stories.
Unlike the typical format of placing a talkback segment at the end of the performance, Broussard actually sprinkles these segments throughout the show. He tells a little of his story, then invites the audience to have their say, then tells a little more, and so on. He also allows audience feedback to impact the way he tells his story. The shape of the next chapter after each break is influenced by the input from that break.
Part monologue, part audience participation, and part improvisation, each performance of Ask a Sex Abuse Survivor is a singular event. There are no two alike.
And while the show is fairly intense and sometimes dark in nature, it also includes a healthy amount of humor and, ultimately, a very positive, empowering and triumphant message of hope and healing.
Purchase Tickets Online
...or call us at (828) 239-0263. We're here to help!
<h2>Seating / Pricing</h2>
<img class="size-full wp-image-987″ src="http://www.ncstage.org/wp-content/uploads/2014/06/ncstage_seating2014.png" alt="ncstage_seating2014″ width="700″ height="217″ />
$15.00- In Advance
$18.00- At the Door