A Catalyst Production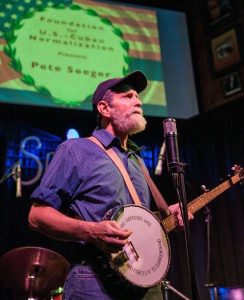 Writer-performer, Randy Noojin, the creator of the multi-award-winning solo show, HARD TRAVELIN' WITH WOODY, which was developed at NC Stage's Catalyst Series in 2012, returns with a new multi-media solo show about folksinger/activist, Pete Seeger.
Sing-along with America's beloved folksinger/activist Pete Seeger at a benefit in Washington, D.C. advocating free speech and a free press in Cuba, where he uses his signature songs, If I Had a Hammer, Turn, Turn, Turn, Where Have All the Flowers Gone, We Shall Overcome, plus archival photos and video, to tell the story of his personal struggles for free speech and free association in McCarthy-era America.
"Noojin disappears into Seeger's persona and whisks us back and forward in time through the American 20th Century.  Anybody who is a Seeger fan should make a bee-line for where this song-fest is humming." – CurtainUp.com
 "Should not be missed by anyone who loves Seeger or good music or our right and duty as Americans to stand up for justice." – TheatreLife.com
The original production of SEEGER was directed by Mary Beth Easley and premiered at The New York International Fringe Festival in 2016.
---
On a budget? Randy Noojin has agreed to offer NC Stage's classic Pay What You Wish Night with tickets from $6-$20 on Wednesday, June 14, 2017. Click here for PWYW tickets!
Purchase Tickets Online
...or call us at (828) 239-0263. We're here to help!
Seating / Pricing


$14.00

$21.00

$28.00