Live on Zoom

Thursday – Saturday at 7:30 PM, Sunday matinees at 2 PM

Click here to view the playbill and song lyrics that accompany the production
*Ticket sales will end at 12 pm on the day of each performance*
Henry "Dickie" Marrow, a 23-year-old U.S. Army veteran whose wife was pregnant with their third daughter, was beaten down and shot to death in the street by Robert Teel, Teel's 18-year-old son Larry, and Roger Oakley, Teel's 21-year-old stepson, for allegedly making a remark to Larry Teel's wife. Despite testimony by two black eyewitnesses, the men were acquitted of the crime by an all-white jury. Roger Oakley, Teel's stepson, actually confessed to shooting the gun but was never indicted. But it was the Teels' acquittal for their hotheaded hate crime that launched the city of Oxford, North Carolina into a season of violent reprisals.
The performance will be accompanied by gospel vocalist Mary D. Williams.
Discretionary Warning: adult themes and language
We understand that this is a new type of theatrical experience, and while purchasing only one ticket per household may be tempting, we are asking you to support your local theatre and act as though you are attending an in-person production.
What does Live on Zoom mean? 
Each show will be performed in real time over the digital platform Zoom, such that the audience will be able to see the performer and the performer will be able to see the audience. For this production, the audience is projected onto a large screen in the seating area and will look a bit like this: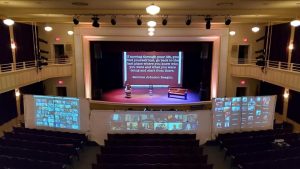 If you have concerns about using Zoom, visit out Zoom help page here or sign up for a Zoom help meeting and Q&A for the week you plan to attend here.
About Mike and Mary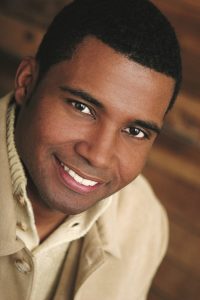 Mike Wiley
Mike Wiley is a NC-based playwright, actor and director whose distinctive original works in documentary theatre, film, educational residencies and performances for student audiences have been acclaimed across America and abroad.
His dramas relay the stories of fugitive slaves, civil rights game-changers, sports heroes and freedom fighters. Dynamic multi-character portrayals offer penetrating views into parallel lives whose roles within African American history have shaped a richer total American experience. Wiley's remarkable one-man "cast" sometimes introduces dozens of characters during the course of a single play. Morphing from young to old, man to woman, African American to white, his gripping stories enlighten and inspire audiences of every age to apply history's lessons to events and situations of the present.
An MFA Graduate of UNC-Chapel Hill, Wiley's original theatrical repertoire includes The Parchman Hour, Songs and Stories of the 1961 Freedom Riders, premiered by Playmakers Repertory Company in Chapel Hill in 2011 and subsequently produced by Cape Fear Regional Theatre and others. One Noble Journey: A Box Marked Freedom relays the true story of Henry "Box" Brown, a slave who crated and mailed himself to freedom. Dar He: The Story of Emmett Till chronicles the murder, trial and confession of the men accused of the Chicago youth's lynching in Mississippi in 1955. Blood Done Sign My Name is Wiley's riveting dramatization of Tim Tyson's best-selling memoir of race and religion. Additional plays include Jackie Robinson: A Game Apart, about African American athletes who pushed the color barrier to its breaking point; Tired Souls: The Montgomery Bus Boycott, documenting men and women who stood up to Jim Crow segregation; Life Is So Good, about the amazing life of George Dawson who learned to read at the age of 98, and Brown v. Board of Education: Over Fifty Years Later on the high-impact ruling that desegregated schools.
Mike Wiley has been featured as News and Observer's "Tar Heel of the Week," profiled in Our State magazine, spotlighted on UNC-TV's "North Carolina Now" and North Carolina Public Radio's "The State of Things" and was named the 2012 Indie Artist of the Year by the Independent Weekly.
In DAR HE, a gripping independent film adaptation of his play about Emmett Till, Wiley himself portrays more than 30 characters in a tour-de-force which has garnered major film and acting awards at numerous film festivals across North America, Europe and Australia, including "Best Actor" at the most recent Harlem International Film Festival.
Extended educational residencies have been funded through grant programs of the North Carolina Arts Council, and his plays have been selected for spotlight showcases at major industry conferences including Arts Northwest, Performing Arts Exchange, Arts Midwest and ArtsMarket. During 2014, Wiley completed a 20 plus-performance tour of One Noble Journey in Ontario, Canada.
Mike Wiley is the current 2014 Lehman Brady Visiting Joint Chair Professor in Documentary Studies and American Studies at Duke University's Center for Documentary Studies and the University of North Carolina at Chapel Hill.
Mary D Williams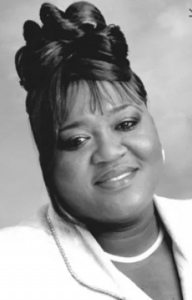 With a voice reminiscent of Mahalia Jackson, Mary D. Williams dynamic vocals soothe troubled minds and lift the heavy hearts of those who witness her awesome performances. Powerhouse psalmist Mary D. Williams is truly that – "power in the house". A native of Raleigh, NC, Williams is no stranger to the gospel scene. She has been ministering solo at local churches, festivals and various events for many years, developing a strong following from performances with such artists as Bobby Jones, Sister Cantaloupe, Lee Williams & the Spiritual QC's, Luther Barnes, Keith "Wonder Boy" Johnson, as well as appearances on the Trinity Broadcasting Network (TBN). Other performances include ministering at the National Council of Negro Women, Inc. in Washington, DC, the Walnut Creek Amphitheater in Raleigh, NC, Duke University Chapel, Bobby Jones Gospel Recording Retreat in Las Vegas, traveling with Duke Divinity Professor Dr. Timothy Tyson and the United Methodist Western Conference. She received Female Vocalist of the Year at the NC Gospel Announcers Guild's Prestige Awards ceremony.
Williams received her Bachelor of Arts degree in American Studies from the University of North Carolina at Chapel Hill and has traveled to more than 40 colleges and universities, more than 40 public schools, hundreds of churches, libraries, and several civic education consortium trainings, performing song and narrative of the Black South. Williams, along with friend and colleague Dr. Timothy B. Tyson, have taught a community-based college course, "The South in Black and White: History, Culture and Politics in the 20th Century South," six times with total of roughly 1,025 students.  The course has been taught at the Hayti Heritage Center in Durham, for undergraduates from North Carolina Central University, Duke University, and the University of North Carolina at Chapel Hill.
Williams keeps herself very busy ministering the word of God throughout the eastern half of the United States. She is a specialist in ministering to women who are struggling with marital challenges.
Purchase Tickets Online
...or call us at (828) 239-0263. We're here to help!
Virtual tickets, one per viewer. Pay What You Wish starting at $20.