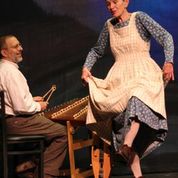 This performance is a benefit for the Haywood Street Congregation.
Actress Barbara Bates Smith, noted for her Off-Broadway performance of Ivy Rowe, adapted from Lee Smith's bestselling novel Fair and Tender Ladies, now celebrates her 25th year of touring with this weekend of performances at NC Stage.  Musical accompaniment by Jeff Sebens.  Quoting from the Lee Smith novel, "I used to be a scandal; now I'm an institution!" Barbara describers her more than 700 times of portraying this fiesty mountain woman's life of "livin' on love," even as she takes a stand against the coal company's bulldozer.
The weekend of shows will benefit the Haywood Street Congregation, a service ministry where both homeless and housed enjoy food and fellowship.  Other features includes a clothes closet, a garden, a worship service led by Brian Combs, a respite center, and even a haircut corner!  You can find Barbara there as she greets guests and leads a story circle.
To find out more about Barbara Bates Smith click here.
This production is made possible by the generous support of:
Watch an interview with the actress and see a preview scene from the show.
Purchase Tickets Online
...or call us at (828) 239-0263. We're here to help!
<h2>Seating / Pricing</h2>
<img class="size-full wp-image-987″ src="https://www.ncstage.org/wp-content/uploads/2014/06/ncstage_seating2014.png" alt="ncstage_seating2014″ width="700″ height="217″ />
<img class="size-full wp-image-989″ src="https://www.ncstage.org/wp-content/uploads/2014/06/key_orange.png" alt="key_orange" width="20″ height="20″ /> $12.00
<img class="size-full wp-image-990″ src="https://www.ncstage.org/wp-content/uploads/2014/06/key_purple.png" alt="key_purple" width="20″ height="20″ /> $18.00
<img class="size-full wp-image-988″ src="https://www.ncstage.org/wp-content/uploads/2014/06/key_blue.png" alt="key_blue" width="20″ height="20″ /> $24.00