Wed – Sat at 7:30 PM & Sun at 2:00 PM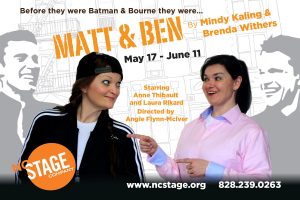 A one of a kind comedy!
Written and originally performed by actresses Mindy Kaling and Brenda Withers ,the show investigates a "theory" behind the origins of the award-winning screenplay Good Will Hunting (written by Matt Damon and Ben Affleck). Played by Anne Thibault and Laura Rikard, the fast- paced and entertaining one-act play depicts Hollywood's golden boys Matt Damon and Ben Affleck, now known as Jason Bourne and Batman. Truly, before anyone actually cared they were just Matt & Ben, two college boys who couldn't be more different. But they shared one big dream – Fame!
Please note, this show contains strong language.
"Absolutely delightful and deliciously spiteful! Sharp and clever, Matt & Ben succeeds!" – The New York Times
"A hit! Acidic, funny and affectionate! Matt & Ben spoofs Hollywood's best friendship!" – The New York Post
---
On a Budget? Pay What You Wish Night offers tickets from $6-$20 on Wednesday, May 17th. Click Here for PWYW Tickets!
Purchase Tickets Online
...or call us at (828) 239-0263. We're here to help!
Seating / Pricing


$16.00

$26.00

$34.00
Please note that ticket prices are subject to change according to availability.