Adapted for the stage by Howard Craft; based on the book by Dr. David Cecelski
Performed by Mike Wiley

Wednesdays-Saturdays 7:30 PM, Sunday Matinees at 2 PM
Additional matinees on September 28 & October 5 at 2 PM
Mike Wiley returns to NC Stage with an illuminating depiction of Abraham Galloway. The story of this significant black leader deepens our insight into the Civil War and Reconstruction as experienced by African Americans in the South. Throughout his brief, mercurial life, Galloway fought slavery and injustice, risked his life behind enemy lines, recruited black soldiers for the North, and fought racism in the Union army's ranks.
"…a tour de force… a riveting evening of theatre" – Raleigh News and Observer
Post-show talkbacks after each performance
This project is supported in part by the National Endowment for the Arts.
About Mike Wiley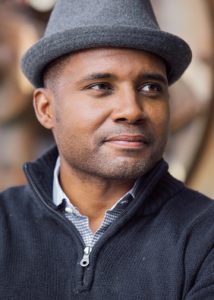 Acclaimed actor and playwright Mike Wiley has spent the last decade fulfilling his mission to bring educational theatre to young audiences and communities across the country. In the early days of his career, Wiley found few theatrical resources to shine a light on key events and figures in African-American history. To bring these stories to life, he started his own production company.
Through his performances, Wiley has introduced countless students and communities to the legacies of Emmett Till, Henry "Box" Brown and more. His recent works include a one-man play based on Tim Tyson's memoir Blood Done Sign My Name and The Parchman Hour, an ensemble production celebrating the bravery and determination of the Freedom Riders who risked their lives to desegregate Southern interstate bus travel in 1961.
Mike Wiley has a Masters of Fine Arts from the University of North Carolina at Chapel Hill and is the 2010 and 2014 Lehman Brady Visiting Joint Chair Professor in Documentary Studies and American Studies at Duke University and the University of North Carolina at Chapel Hill. In addition to his numerous school and community performances, he has also appeared on Discovery Channel, The Learning Channel and National Geographic Channel and has been featured in Our State magazine and on PBS' North Carolina Now and WUNC's The State of Things.
Check out his website: mikewileyproductions.com
Purchase Tickets Online
...or call us at (828) 239-0263. We're here to help!
Seating / Pricing

Student = $10.00 (Under the age of 25 and must present valid student  ID at the Will Call. Please call to reserve 828-239-0263)

$26.00

$34.00

$42.00
Refund Policy
Please note that tickets purchased at the box office, the phone or online are non-refundable. If you need to change your seats or change your show-time, you must visit or call the box office 24 hours prior to the performance. Same day cancellations cannot be refunded or credited towards a different performance. If you have any questions email us at [email protected] or call 828-239-0263.