Jim Cavener was very gracious to write a review for BURDEN, which is now playing at NC Stage. The Asheville Citizen Times will no longer be publishing theatre reviews. We are pleased to post the reviews that Jim will be writing for our productions. On the bottom of the page you will find more information about Jim's career and his promise to you the readers and patrons.
North Carolina Stage Company, Willie Repoley and The Immediate Theatre Project, and consummate theater director/Amherst College theater professor Ron Bashford have been in various collaborations for more than 15 years. Their many mutual engagements have been a long-standing marriage made in heaven. The most similar conjunction to their current "Burden" (on Stage Lane at NC Stage through May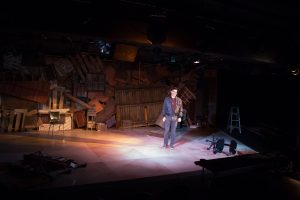 20, 2018) was the epic one-man production of "An Iliad" nearly three years ago. Similar, primarily in being a one-man performance, with Repoley emoting a nearly 90-minute monologue of brilliance.
The title tells you almost nothing, though it's easy to surmise that the single character in the story is a troubled soul. And trouble turns out to be his middle name, at least metaphorically. A New Orleans journalist who flees America's mid-South for the American Northwest, an also problem-ed, though seemingly idyllic Portland, Oregon. The story line is mainly J.B's struggle with self-understanding, but also touches on the national struggle with governmental credibility and the nation's long-standing crisis with racial disparity and social justice. Dancing the dance to do the right thing. And often failing on all counts.
Although this writer has seen no such reference, nor suggestion, he has to wonder if the co-authors consciously named this struggling character J.B. to evoke the image of the Biblical Job, who suffered from a comparable series of plagues? Wherever the name came from, this is an epic saga of contemporary issues based in early 21st century American social struggles. While a linear construct, with dream-like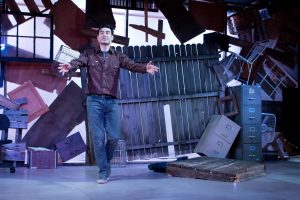 episodes, the storyboard works best without intellectualizing, simply letting the visceral stream of consciousness flow over and past, for the feeling, not the ideas.
Speaking of the construct, co-authors Bashford and Repoley did not start with a Rodgers and Hammerstein concept that they jointly fleshed out, but simply sat together and let a seamless tale emerge as they allowed their imaginations to flow. In fact, they had wanted to produce a staging of Robert Penn Warren's "All the King's Men" — a novel on political corruption, but could not get the rights to the script. They reflected on what elements in that story resonated with them, and took off from there. Nearly four years ago. That long gestation-period was worth the wait.
Some observations on the content, in retrospect: might be to ask is it okay to lie as a means of telling the truth? What if you discover that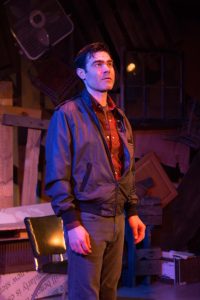 your life is a lie? How can such a precious and progressive community as Portland, Oregon be so full of basic conflict and contradictions: the racist train shootings, the racial conflicts of the recent past and the well-hidden social unrest seething below the surface of the seemingly serene city? Ask Ken Keysey….
This script is a true collaboration, though concocted in that quite unusual collaborative manner. Repoley's capacity to regurgitate such a lengthy narrative — a soliloquy of reflection for nearly an hour-and-a-half, punctuated by momentary minutes of masterful mime — is a miraculous performance, equally impressive to his past "An Iliad."
The stage set is minimal — though not minimalist — and mostly 'glued' to the back wall. This mélange of household objects is evocative of the results of a tornado (of the mind?), or more likely hurricane Katrina which wreaked havoc on New Orleans about the time of this story. The background was designed by NC Stage's new Associate Artistic Director, Michelle Carello, who comes to Asheville from Pittsburgh, though with degrees from both UNCA and Carnegie Mellon School of Drama. Lighting, often through that backdrop of madness, is by the omniscient local lighting maestro, Jason Williams. Sound design — ominous mood music, mostly — is by Immediate Theatre Project's co-founder, New York-based Hans Meyer.
---
After 33 years writing theater reviews for the Asheville Citizen (to begin) then after the merger, for the combined Asheville Citizen-Times — as well as for several Southern California daily papers, this writer welcomes the opportunity to provide commentary for one of Asheville's most significant theater companies, North Carolina Stage. This commentary will not resemble a book-report, regurgitating the plot summary and the writer's judgement on whether a viewer will appreciate the production or not.  It will try to be a factual, but totally subjective assessment of enough aspects in the production to give the reader some elements upon which to discern whether investing her/his time and finances in this enterprise might be rewarding.
Among those descriptive aspects could be some data on the playwright's background and experience, some assessment of the quality of her/his concept, construct and writing — but not a description of the plot. Then, the appropriateness (or lack thereof) of casting for the show, the director's skill in creating some aspects of an ensemble, and mention of the visual aspects of the production: set design and execution, aspects of lighting and sound, costuming and make-up and other technical theater elements such as projections, pyrotechnics, special effects and unusual theatricisms — if any.
Jim Cavener
Jim Cavener has written some 3,000 theater reviews for eight different daily papers over the past three decades, plus. His California produced and published 'papers' (programs, drafts, notes, ticket stubs and clippings) are in the One Archives of the University of Southern California library system in Los Angeles, and his Asheville produced works will soon be ensconced in the archives of the North Carolina Room of Pack Library of the Buncombe County Library system in downtown Asheville. He can be reached at [email protected].