Bringing dynamic performances to audiences
who experience barriers to attending live theatre.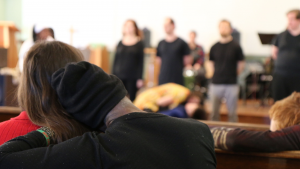 ---
About the Community Tour
Tour performances are coordinated with and performed for audiences in non-traditional spaces such as homeless shelters, correctional facilities, community centers, low income senior centers and locations throughout rural Western North Carolina. For schools, the Community Tour offers student workshops with teaching artists from the Ensemble.
The Community Tour also includes a series of ticketed performances for audiences at NC Stage.  Performances at NC Stage are staged in an intimate setting with all the lights on so our audiences may enjoy the performance as it is experienced at each tour location.
---
Performances of the current NC Stage Community Tour of Antigone by Sophocles will be held August 2 – August 13 at 15 Stage Lane in downtown Asheville.
All tickets are priced on a Pay What You Can system ($5 minimum).
---
Community Partners & Schools
Since 2018, the Community Tour has performed for over 2,000 people in partnership with:
Avery-Mitchell Correctional Institute | Mitchell County Senior Center
Haywood Street Congregation | Transylvania County Library
Transylvania County Arts Council | NC Veterans Home Black Mountain
Swannanoa Women's Correctional Facility | MountainCare Adult Day Center
Estes Elementary School | Cherokee Central Schools
Mountain Heritage High School | Rosman High School
---
Past Productions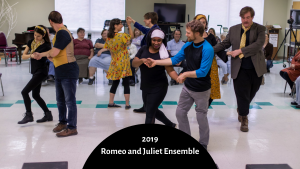 The Ensemble: James Hendley, Samantha LeBrocq, Josephine Thomas, Tara Whitney Rison, Jefferson Haynes, Dwight Chiles, Rosemary Shemesh, and Silas Waugh.
Directed by NC Stage Artistic Director Charlie Flynn-McIver and featuring the music of Teso McDonald and Lea Anna Bright, with original compositions by Teso McDonald.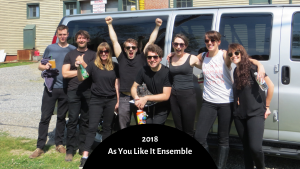 The Ensemble: Free, Julia Christgau, Glenna Grant, Adam Kampouris, Carin Metzger, Nathan Singer, Trinity Smith Keel, and Jon Stockdale.
Directed by NC Stage Artistic Director Charlie Flynn-McIver and featuring Shakespeare's songs set to original compositions by Julia Christgau.
---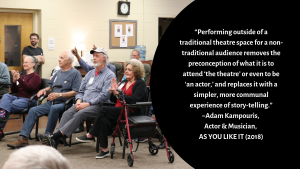 ---
Inspiration
NC Stage is joining a growing community of theaters across the country inspired by the work of Ten Thousand Things, a theater company in Minneapolis founded by Michelle Hensley. Ten Thousand Things has been sharing extraordinary theater with non-traditional audiences for over 26 years.
"Because theater is richer when EVERYONE is in the audience."
~ Michelle Hensley, Artistic Director & Founder, TEN THOUSAND THINGS