2021 Intergenerational Theatre Workshop is happening on Zoom!
The 2021 ITW is centering the LGBTQIA+ community and is
open to LGBTQIA+ identifying teens and young adults ages 17 – 23 and elders ages 60+.
---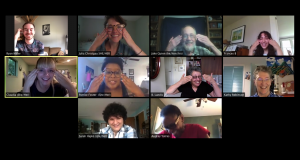 The Intergenerational Theatre Workshop is a free program that brings together teens and young adults (ages 17-23) and elders (ages 60+) to share their stories and create an original performance piece inspired by each other's lived experiences.
Participants discover, express, and connect through interviews, writing exercises, and theatrical explorations. The program culminates in a public presentation where participants perform their own work-in-progress together.
No theatre experience is required to participate!
---
---
How Participants Are Selected
Space is limited and we wish we could open the experience to everyone who is interested.  The program is ever-evolving and over time we hope to broaden how it works.
Participants are selected through an application and an interactive group interview. Once applications have been reviewed, candidates will be contacted to schedule your session.
The goal of the group session is to provide potential participants with a glimpse of what it's like to be a part of the theatre workshop. There will be up to 6 applicants in the room for each session and folks will be interacting with each other through a few short exercises. 
No preparation is required – just bring an open mind! If you have any questions about the program, there will be a chance to ask them during the group meeting.
---
Meet the Artist Facilitators
Adil Mansoor is a theatre director and educator centering the stories of queer folks and people of color. Directing projects include Gloria by Branden Jacobs-Jenkins (Hatch Arts), Chickens in the Yard by Paul Kruse (Hatch Arts and Quantum Theatre), Desdemona's Child by Caridad Svich (Carnegie Mellon University), Dark Play or Stories for Boys by Carlos Murillo (Carnegie Mellon University) and Through Broken Doors, an ensemble generated digital archive (Pittsburgh Playhouse). Adil is currently developing Amm(i)gone, a solo performance adapting Sophocles's Antigone as an apology to and from his mother. Amm(i)gone is National Performance Network (NPN) Creative and Development Fund Project co-commissioned by Kelly Strayhorn Theater, The Theater Offensive, and NPN. For more, visit www.adilmansoor.com
Lyam B. Gabel (they/them) is a trans* director, writer, researcher, and educator who creates containers for collective remembering and radical celebration. They are a founder of trans-media oral history and performance collective LAST CALL, and a director of the NEFA NTP '18/ MAP '16 performance Alleged Lesbian Activities about the history of lesbian bars. They are a member of the physical theater ensemble NEW NOISE where they directed MAP '17 project Jubilee, about undoing familial patterns of racism. Their current work the dance floor, the hospital room, and the kitchen table exploring queer care from the early years of the AIDS crisis through COVID-19 received an NPN Creation Fund commission. Other current work includes an AR journey through trans* euphoria and queer ecology and a short film about lip-sync as time travel. They regularly collaborate on work by playwrights, multidisciplinary artists, and solo performers and have developed work at Judson Church, Pipeline, Ashland New Plays Festival, The Theater Offensive, and The New Orleans CAC among others.  In addition to writing, directing, and developing work they teach youth and adults through year-long classes, intensives, and one on one coaching with an emphasis on developing TGNC performers and building queer communities capacities to write their own narratives. Drama League Next Stage Resident 2021, Drama League Fellow 2017, Distillery Artist New Orleans CAC 2016. www.lyambgabel.com
---
Attendance
Every participant matters!  Most of the workshop experience happens with partners or larger groups and if one person is missing, the whole group is affected.  It is important for every participant to attend every session and to see the workshop through to the end.
---
Contact Information
Please do not hesitate to contact us with any questions you might have! [email protected] or (828) 239-0263.
---
Gratitude!
Special thanks to the New York Theatre Workshop, Alexander Jirau-Santiago and theatre artist Andrew Garrett for their partnership and encouragement, to Asheville advocate Blair Fielding whose passion for intergenerational community brought us all together, theatre artists and educators Patrice Foster and Julia Christgau for their generosity and brilliance braving the first year of a virtual workshop, and to all the amazing AARP volunteers who have helped us make this program happen since 2018.
Thank you!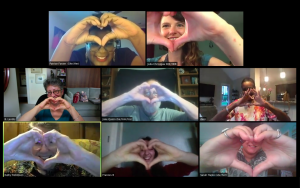 Sponsored by

Supported in part by The Walnut Cove Members Association