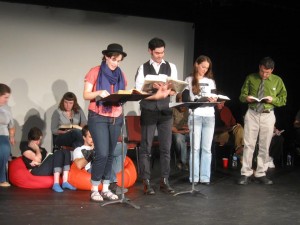 This year NC Stage is teaming up with Montford Park Players to present Bard-a-thon, a 24 hour Shakespeare reading that raises money for both organizations. This year's Bard-a-thon is April 25th-April 26th.
The Bard-a-thon works because lots of people participate. Readers sign up to read Shakespeare plays over a 24-hour period, asking their friends, family, and co-workers to sponsor them. We offer first dibs on roles to participants who raise the most money. Of course, no Shakespeare weekend would be complete without prizes, food, and fun! In fact, this year we are wrapping up the event with a big party on Saturday night at 8:00 PM to celebrate Shakespeare's birthday.
The entire weekend is live streamed- so your audience can come to the theatre or watch from home!
Sign up now by calling Kelly at (828) 239-0263, emailing [email protected], or dropping by the Box Office at 15 Stage Lane. Registration fee is $15.00 which covers the cost of your T-Shirt!
Hurry! Register by Thursday, April 10th at 5:00 PM to secure a t-shirt in your size!
FAQ's
What should I expect as a participant?
Bard-a-thon works in much the same way as an event like Crop Walk. Participants work to get folks in their circle to sponsor them for particular readings. Before the event you will help raise money through these sponsorships. Starting April 25th you will be able to read parts in Shakespeare's plays throughout the weekend. Prizes, food, and fun are a part of the entire weekend and we promise you lots of laughs.
How do I choose what role to play?
If you know you want to play a particular role, you will want to start raising money right away. In order to choose a role, participants must raise a minimum of $100.00 before Friday April 18th at Noon. The individual who raises the most money by this deadline gets first dibs on the role of their choice.
If you raise money, but don't meet the minimum by April 18th roles will be chosen on a first come, first serve basis. Get started early to ensure you get the part you want!
Can I bring a guest to the party Saturday night?
Participants who raise at least $50.00 get a free guest ticket to the party Saturday night. All other guests will pay $10.00 at the door. The party is going to be a celebration of Shakespeare's 450th birthday complete with food, drinks, and birthday cake!
Do I need to be a professional actor?
No! Anyone is invited to participate and in fact many of our registrants do not have previous acting experience. This is a fun weekend that is a way for us to reach folks and increase awareness (and funds) for both NC Stage and Montford Park Players.
5:00 in the Morning? Seriously?
Yes. We have participants who read the entire 24 hours. In fact, we give out prizes to individuals who read the longest! If you make it the entire 24 hours you are guaranteed to get a Super Flex Pass to see everything you want at NC Stage next season.
How do I win a Prize?
We award prizes throughout the weekend from a variety of great local sponsors. Of course, there are always surprises throughout the weekend.
I'm still confused. Can you give me some more information?
Yes! Feel free to give Kelly a call at the theatre (828) 239-0263 or email [email protected] for more information or to sign-up.
I'm Convinced- I really want to participate. How do I register?
Give us a call at (828) 239-0263, email [email protected], or visit us in person at 15 Stage Lane in Downtown Asheville. Once you are registered we will send you an email with more information on how to start fundraising and some of the things you can expect throughout the weekend!