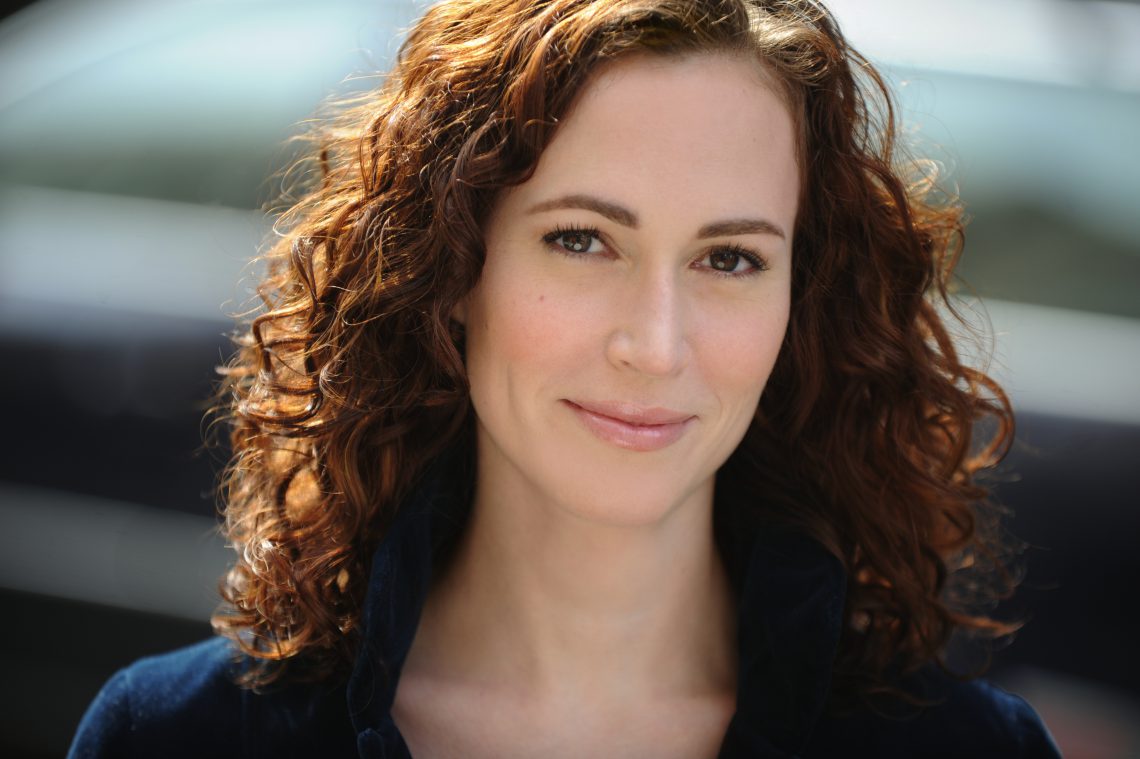 Blythe Coons, powerful and striking, takes center stage this fall in Immediate Theatre Project and NC Stage's one-woman production of Grounded. The Columbus, OH, native holds an MFA in Acting from Rutgers University as well as her MA in English Lit. This highly educated and meticulously trained actress may just have the perfect foundation for tackling the role of The Pilot in Grounded.
Where did your performance career begin?
"While I was pursuing my masters in English I was cast as Lady Capulet in a production of Romeo and Juliet with several professional actors. I left school that summer, returned home, and immediately started applying to MFA programs. I had always been active in theatre but had chosen not to pursue it….then I fell in love with it all over again and pursued it in the only way I knew how to: through education."
Blythe moved to NY after completing her MFA and worked in the city for nearly two years. At that point she received her "break" and landed a six month contract with the American Shakespeare Center in Staunton, VA, performing five shows in six months. She smiled and explained, "I figured after that, I could try anything!"
What drew you to Grounded?
"A friend of mine sent me this play in 2014 and said he'd love to direct me in it. He had no venue, no production company, and not way to support it but just wanted to direct me in the role. I thought, 'Well that does not help me!' By that time I had established a good relationship with Willie and asked him to take a look at the piece. At the time Willie already had An Iliad, a one-person drama about war, in the cue for the 2015 season. Willie came back and said, 'Blythe, I can't do another one!' and I replied, 'So… what about 2017?"
Are you like your character, The Pilot, in any way?
She laughed a little and said, "If a person has any ounce of ambition then they are like the pilot… If I want my career to take flight, I have to take risks. And this one-woman show is a risk. It might be calculated, but it's a risk. Where the pilot and I differ is that she is an impulsive, gut person and I think that's what makes her a good pilot. She's not thinking it out, she's not reasoning it out, she's doing it. And acting is doing… but I am a little more of a thinker than the pilot is," she admitted sheepishly.
What do you hope the audience will take away from this piece?
"This will sound so cliché, but bear with me…. Grounded is so relevant to the world we're living in. This play was written in 2013 but it is still so present,  The white house is currently dealing with transparency about civilian deaths caused by drone strikes and aside from the election, this is one of the most present topics in our news."
She thought for a moment and added, "This play also has a lot to do with person hood… How do we make decisions that will effect so many other people? And we're talking about life or death decisions here. I guess my question is what gives any individual the power to play god?" That's what Grounded is all about.
I hear that you are staying an extra week to reprise your role as "Kitty Dale" in Live from WVL… Sleepy Hollow. Is that correct?
"I am!"
Blythe will be reprising her role as "Kitty Dale", a radio actress working for WVL Radio Theatre (the fictional home of ITP's yearly "broadcast" of It's A Wonderful Life). This October, Kitty Dale and the gang are back at the station and are broadcasting a new Halloween show called Live From WVL Radio Theatre: The Headless Hessian of Sleepy Hollow (And Other American Horror Stories). The show runs from Oct. 12th – 16th.