From the Citizen Times; Asheville Scene – Friday September 13th
NC Stage Opener: From Slavery to Senator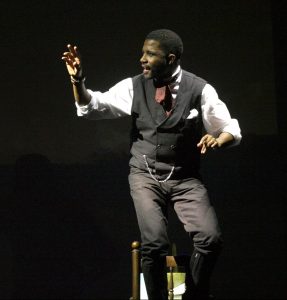 Abraham Galloway was born a slave, but he died a state senator, one of the first African Americans elected to the North Carolina General Assembly.
His story is one of bravery, persistence and fiery ambition — and his true and historically accurate tale is brought to life in "The Fire of Freedom: The Story of Abraham Galloway," the opening production of North Carolina Stage Company's 2019/2020 Season.
"Galloway was an amazing individual," said actor and playwright Mike Wiley, speaking of the historic figure he portrays. "He was Malcolm X before Malcom X. He was an amazing orator, but, at the same time, he was fierce — he had many, many close calls with being caught by the Confederates, first as a slave and then as a Union spy."
Born in 1837, Galloway escaped from slavery at age 20, traveling from his birthplace in North Carolina to Philadelphia. Four years after his escape, at the beginning of the Civil War, Galloway returned as a spy for the Union army — the chief intelligence agent encouraging slaves to join the war for freedom.
"You see, Abraham Lincoln had asked Abraham Galloway to speak to former slaves in Eastern North Carolina and convince them to become Union soldiers," Wiley explained. "Well, Galloway had seen the best sides and the worst sides of people — in both the North and South — and he wanted to be sure that these former slaves understood the full story before making a decision."
In the play, Wiley addresses the audience directly, speaking as if he's talking to a group of former slaves.
In May 1864, Galloway met with Abraham Lincoln to advocate for African American suffrage — and, the next year, he had organized a state chapter and five local chapters of the National Equal Rights League. In 1868, just three years following the end of the Civil War, Galloway ran for state senate, becoming one of three black senators to be elected to the North Carolina General Assembly. In 1870, at age 33, Galloway died unexpectedly of fever and jaundice. He had just been re-elected to the senate — and an estimated 6,000 mourners attended his funeral.
Opening on Saturday, Sept. 21 and running through Sunday, Oct. 6, "The Fire of Freedom" was based on the book by Dr. David Cecelski and adapted for the stage by Howard Craft. This production reaches new heights, however, through the direction of Wiley, whose acclaimed production of "Dar He: The Story of Emmett Till" opened the Asheville theatre's season in 2018.
Galloway's story is one that's not often told, but his riveting life tale illuminates and deepens our insight into the Civil War and Reconstruction as experienced by African Americans in the South.
"He is virtually unknown to most Americans," Wiley said. "But he was one of North Carolina's first black senators, during the Reconstruction period. He was a firebrand. He helped numerous slaves escape into the North … and (after the war), he worked hard to see that certain promises and demands were kept."
But many were not.
"Promises of land, money, certain freedoms," Wiley continued. "And we still feel those effects today. It's a cold, hard fact that the play takes a look at, as well."
Wiley has spent the last decade fulfilling his mission to bring educational theatre to audiences and communities across the country, starting his own production company to bring emotional and impactful stories of African American history to the spotlight.
"At this particular time in American history, we see these neo-Confederates and a whole array of others trying to persuade people to either forget or deny history — particularly the history of slavery in this country," Wiley explained. "And here is a man who speaks the truth, speaking directly to the audience, about why it is so very important to be free. But freedom has a cost, and sometimes, (especially to his Civil War-era audience), that cost may be death.
"What I'm hoping to do," he continued, "is to inspire an audience to be active — to look at history in the face. Don't just learn from it, but actively seek avenues not to repeat it, to work against the likes of individuals who would either like to forget it or say that things were not as bad as they were made out to be, whether that's in the slavery South or during the Jim Crow South."
After each performance, Wiley stays for a talk with the audience, giving members the opportunity to ask questions and start discussions — making connections between Galloway's life and the present day.
"It's often said that history repeats itself," Wiley said. "Well what I think is: History doesn't necessarily repeat itself, but it sure does rhyme. History is important, and it's through drama, stories that the themes get into the blood. You can tell someone to read a book or lecture someone about a particular topic, but it just doesn't penetrate the skin, the mind like through the telling of a dramatic piece. It's then that people see themselves — or a loved one — in the work, and it's then that people decide to incite change."
See The Fire of Freedom at NC Stage September 21 through October 6