From the Citizen Times; Asheville Scene – Friday November 29th
NC Stage's Handle With Care brings romance to the holidays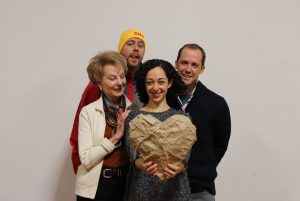 She speaks Hebrew. He doesn't — unless memorizing the haftorah for his bar mitzvah counts. Yet, somehow, due to an unexpected tragedy, these two understand one another on a deeper level.
In North Carolina Stage Company's "Handle With Care," a romantic holiday-themed comedy opening Dec. 4, circumstances both hilarious and tragic bring together a young Israeli woman and a young American man. Is their inevitable love an accident? Or is it destiny, generations in the making?
"Handle With Care" opens on a snowy Christmas Eve in Virginia, as a tense situation quickly unfolds. Delivery driver Terrence's truck, with all his cargo, has gone missing, and Ayelet, an Israeli woman visiting the U.S. for the first time, is demanding answers to its whereabouts, as it contains a very important package of hers — and time is of the essence.
Ayelet, who does not speak English, is understandably confused and frustrated with Terrence, who does not speak Hebrew, and the two are unable to communicate the basics of the difficult situation. In an attempt to circumvent the language barrier, Terrence calls Josh, an old friend, to the scene — albeit under the incorrect assumption that, because Josh is Jewish, he can speak Hebrew. As it turns out, Josh can't really speak Hebrew (aside from a few hilarious phrases), but, despite all odds, there's a spark between the two strangers.
"I would have to say, first and foremost, this is a play about love," director Patricia Snoyer Black explained. "Love for your family, love for old friends, love for your partners — and all of this love is woven into one really charming and gentle comedy. These two people from very different cultures are thrown together by circumstance — and comedy ensues from their multiple attempts at finding alternate forms of communication."
During the play's off-Broadway run in 2013, a critic from The New York Times called "Handle With Care," written by playwright Jason Odell Williams, "a hilarious and heartwarming romantic comedy … which exudes gobs of comic energy and insight. Mr. Williams has achieved something special. He has written a Jewish Christmas story."
The Hebrew dialog in the script was carefully crafted for contemporary audiences by Charlotte Cohn — a special treat for those in the audience who speak both languages. "Some people consider 'Handle With Care' a fully bilingual comedy," Snoyer Black said.
But that's not to say that audiences who only speak English won't understand or enjoy the play.
"It's written with that expectation," the director explained. "A lot of the humor is that the two male characters don't understand what Ayelet is saying — and many (or most) people in the audience will take the same journey that the characters do. For anybody that doesn't speak Hebrew, that's going to be part of the delightful experience of the play. As the guys start to understand what she's saying, they repeat it back to her and pretty much translate for the audience as they figure out what's being said."
The play is mostly set in the present, late on Christmas Eve, but includes flashbacks to the near-past that give context to Ayelet's predicament: Though she had arrived in America with her beloved grandmother, circumstances require that she navigate back to Israel alone.
Of course, there is a twist — but Snoyer Black says she prefers it's left a secret.
"The reveal during the play is so good," she said. "I'd hate to spoil it."
The North Carolina Stage Company production of "Handle With Care" stars Anna Slate as Ayelet, Barbara Bloomberg as Edna (Ayelet's grandmother), Ben Mackel as Josh and Aaron Brakesfield as Terrence — with direction by Snoyer Black, a veteran of North Carolina Stage Company from its early years.
"I just want to say how happy I am to be working with NC Stage again," the director added. "I was very fortunate to work with this company back in their early days, when I was a professor at the department of drama at UNCA, from which I'm now retired. … I just moved back to town a year ago, and I feel very fortunate to be back at my home theatre. I love this company."
"Handle With Care" runs from Wednesday, Dec. 4 to Sunday, Dec. 22, beginning at 7:30 p.m. on Wednesdays, Thursdays, Fridays and Saturdays and at 2 p.m. on Sundays, with additional matinee shows on Saturday, Dec. 14 and Saturday, Dec. 21. Tickets are on sale now, starting at $18, with special $10 tickets available for students under 25 with a valid student ID. Tickets can be purchased online at ncstage.org or by calling 828-239-0263.