Jim Cavener was very gracious to write a review for Other Desert Cities which is now playing at NC Stage. Since the Asheville Citizen Times will no longer publish theatre reviews, we will from now on post reviews ourselves. Below you will find a little background information on Jim's career and his promise to you the readers and patrons. His review follows.
After 33 years writing theater reviews for the Asheville Citizen (to begin) then after the merger, for the combined Asheville Citizen-Times — as well as for several Southern California daily papers, this writer welcomes the opportunity to provide commentary for one of Asheville's most significant theater companies, North Carolina Stage. This commentary will not resemble a book-report, regurgitating the plot summary and the writer's judgement on whether a viewer will appreciate the production or not.  It will try to be a factual, but totally subjective assessment of enough aspects in the production to give the reader some elements upon which to discern whether investing her/his time and finances in this enterprise might be rewarding.
Among those descriptive aspects could be some data on the playwright's background and experience, some assessment of the quality of her/his concept, construct and writing — but not a description of the plot. Then, the appropriateness (or lack thereof) of casting for the show, the director's skill in creating some aspects of an ensemble, and mention of the visual aspects of the production: set design and execution, aspects of lighting and sound, costuming and make-up and other technical theater elements such as projections, pyrotechnics, special effects and unusual theatricisms — if any.
Jim Cavener
Other Desert Cities – The Review: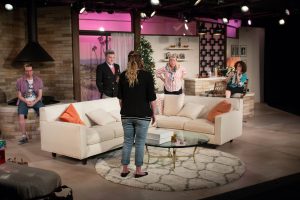 North Carolina Stage Company's current "Other Desert Cities" gives no clues in its title to its content, beyond suggesting that it might be set in some desert on some continent of the globe. Indeed, the plot takes place in one of this nation's most celebrated desert communities. Palm Springs, California. In the interest of full disclosure it needs be stated that this writer was born and raised 74 miles from Palm Springs. So it was with considerable interest that this reviewer might monitor the presentation for its accuracy and authenticity.
Playwright Jon Robin Baitz is a Southern California native, Beverly Hills High School grad, and totally immersed in that rarified setting. His writing for some decades has been primarily for theater where he is known as the 'perpetually promising' playwright, since he is regularly a finalist for the Pulitizer (twice), the Tony, and the Drama Desk Awards, and he actually won the Outer Critics Circle Award in 2011 for this script, "Other Desert Cities."  His film and television work includes creating TV's "Brothers and Sisters" and writing episodes of the highly regarded "West Wing" series of some seasons ago. He also wrote the screenplay for the 2015 film "Stonewall."
With that background, who'd be surprised that the concept and the delivery of "Other Desert Cities" should be well executed. Unlike other TV writers who undertake efforts for the stage, this is not an episodic, jerky and snippet-filled product but flows smoothly with impressively conventional contemporary dialogue. Set in a spacious, mid-century modern living area of a Joseph Eichler-like desert home, with sloping roof-line, fire-pit with stone wall and hanging metal hood, and post-Danish modern furnishings — complete with ten portrait photographs of some of the Palm Springs 'Film Colony' Greats from the 20th century.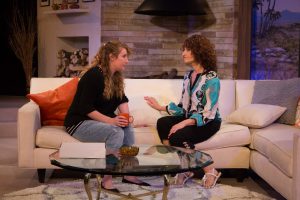 Now about this sterling cast! Starting with the least major of the five roles in the story-line, we have a sister/sister-in-law of the leads, who strolls in and out on occasion, and the role of Silda Grauman — a free-wheeling, early worldly 21st century swinger, who currently stays in this resort community, with her archly conservative sister and brother-in-law, whose lives center on the County Club and tennis courts.  Aunt Silda is often on the side of the two (well, maybe more?) children of the former Grade-B cowboy film actor, then U.S. Ambassador to some likely insignificant island, micro nation or principality — the sort of Ambassadorship that can be bought for as little as a $500,000 campaign 'contribution,'  — of course appointed by President Reagan. Ellen Sandweiss, with a couple University of Michigan degrees in theater, and a string of horror films in her dossier, comes back to Asheville after a couple decades with stage appearances in a wide array of vehicles ranging from "Blithe Spirit," "Jacques Brell is Alive and Well," "Lend Me a Tenor" and "Midsummer Night's Dream." My guess is that Sandweiss renders this Silda role close to what the gay, Jewish playwright had in mind, and that he'd much appreciate her pot-smoking performance.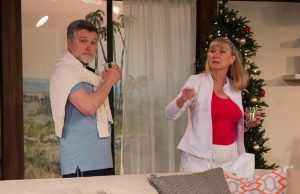 The couple who are the householders of this abode are Polly and Lyman Wyeth — now isn't that about as gentile-sounding a stage name as might be invented?  Former New Yorkers, they've been totally Hollywoodized, and fit into the local culture like hand in glove. Lyman is the aging — though both still in their prime — former western flick star who follows George Murphy, Shirley Temple (ooops! Mrs. Charles Black) and Ronald Reagan from the sound stage to elected and appointed politics. Kelley Hinman interprets this father, actor, diplomat and tormented public figure with elan. Hinman comes with a vast portfolio of acting credits in film, TV and stage in both Los Angeles and NYC — the former locale giving him a knowledgeable capacity to feign being a Left Coaster. Hinman is best known locally as Bellomy in Flat Rock's "Fantasticks" and Whitaker in "A Few Good Men,". Now retired from pretend diplomacy, what with the changing of administrations, the Wyeths have left Bel-Air for the Lower Desert and a life of leisure. Callan White as Polly, follows her Florence Foster Jenkins in "Souvenir", and Bertie's aunt in "Jeeves Intervenes" and "Jeeves in Bloom", "Glass Menagerie" and "Angels in America" roles at NCStage, and film, TV ("L.A. Law" and "JAG") and other stage roles as far afield as Berkeley Rep (CA), Long Wharf Theatre (CT) and Kennedy Center (DC).  She is ideal as the urbane and controlled mother, wife and professional writer, though tortured by secrets that attentive listeners will discover.
Their children are given by Trinity Smith Keel and Scott Keel, whose theater careers are shorter and centered in Asheville where they have
become stellar 'fixtures' in the stage world. Trinity Smith Keel has a track record with NCStage including her "Don't Dress for Dinner" and "Jeeves in Bloom," plus Flat Rock Playhouse, Montford Park Players, HART, Parkway Playhouse, Different Strokes! Performing Arts Collective, and most recently at Asheville Community Theatre's 35below. Her Brooke Wyeth is a strong young woman writer, whose draft of a new novel is the trigger for much of the high octane drama of this show. Scott Keel gives us the equally feisty and defiant son, Trip, both children about as far as apples can fall from parental trees. Surprisingly, Scott Keel had previously not worked with Asheville's only professional/EQUITY theater, NCStage, though has a lengthy resume of regional credits as actor, director, producer and has also worked with most of the above-listed local companies, primarily with Montford Park Players. His portrayal of the independently minded and progressive son, Trip, is quite impressive.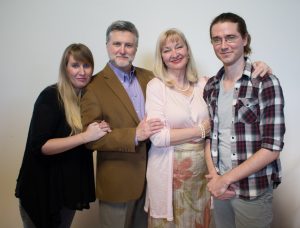 The glue that holds it all together — with considerable strength — is the deft direction of NCStage co-founder and this show's director, Charlie Flynn-McIver.  Achieving an ensemble corps is often possible with a cast of only five, and a capable director, but this time was the simpler for four of the five actors actually being married — in real life — to another. The parents and the two kids are each a couple. It shows, these actors bounce off each other with great practice and intuitive grace. It is a joy to see such a crew interact so capably. The stage set was previously mentioned, but let's name the creator of this fine visual, and of the small section of the desert beyond the door to the pool, and/or the courts. It's just a glimpse, but in addition to the interior of this tastefully decorated home, that peek at the desert horizon captures the feel of the expansive desert. Julie K. Ross captures the feel of life on the desert floor which further advanced the credibility of this highly strung drama "drowning in domestic denial" as one earlier reviewer was seen to write. That bit of alliteration is nifty to the ears, but hits the gist of this show dead on. Catori Swann is responsible for technical direction and lights. Sydney DeBriel did the costuming, Bill Munoz does the production stage management, Kenneth Horgan did the prop design and C.M. Garrison is run crew. It 'takes a village' and this village is pretty impressive.
Jim Cavener has written some 3,000 theater reviews for eight different daily papers over the past three decades, plus. His California produced and published 'papers' (programs, drafts, notes, ticket stubs and clippings) are in the One Archives of the University of Southern California library system in Los Angeles, and his Asheville produced works will soon be ensconced in the archives of the North Carolina Room of Pack Library of the Buncombe County Library system in downtown Asheville. He can be reached at [email protected].