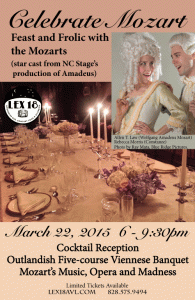 SUN. MARCH 22, 2015 Mozart, Madness and Magnificence
"Mozart, Madness and Magnificence" Classical Five-Course Banquet Experience
Mozart, Madness and Magnificence is the grand finale experience of Asheville's week-long celebration of the life and music of Wolfgang Amadeus Mozart.  Dine in a sumptuous Viennese setting with classical music, opera singer and the star actors performing Wolfgang Amadeus Mozart and his wife Constanze Mozart from NC Stage's performance Amadeus.
Lavish, opulent and unabashedly dramatic, this will be an affair to remember for a lifetime. Centered under its gold ceiling, an 18ft long banquet table is lavishly dressed in velvets with baroque candelabras and ornate floral arrangements.  French Limoges china, fine silver cutlery and vintage cut crystal glasses are elegantly laid out for 22 guests while costumed servants will present an extravagant feast.  Seated at the banquet are special guests Mozart and Constanze providing amusing madness to the evening's entertainment of music and conversation.
NC Stage fans can use the code NCSTAGE to save $30 on the ticket price. Space is very limited. To make reservations call (828) 575-9494 or click here to order online.
6pm- 7pm
VIENESSE INSPIRED COCKTAILS & MUSIC OF MOZART
The Black Forest
Zubrowka, Chambord, Mozart Dry Chocolate Spirit, Green Chartreuse
Salieri's Toast
Tanqueray dry, Cointreau, Orange, Lime, Fennel Seeds
Amadeus Requiem
Sparkling Alsatian wine, Crème de Violette, Lavender
7pm- 9:30pm
BANQUET WITH WOLFGANG AMADEUS MOZART & CONSTANZE MOZART
FIRST COURSE
Sampler plate of local and German cheeses, sausages and crudités
Paired with Bauer Haus Riesling, Germany
SECOND COURSE
Viennese potato soup with mushrooms and diced bacon
THIRD COURSE
German bacon and onion spätzle
Paired with Die Hochland Imker Winter Mead with Spices, Austria
FOURTH COURSE
Viennese pork schnitzel with creamy mushroom sauce
Classic creamed kale and Savoy cabbage with horseradish
Paired with Chateau Roc Meynard Bordeaux Superieur Rouge, France
FIFTH COURSE
Lex 18's Sacher Torte and Nightcap
Rich flourless chocolate torte with apricot center and creme anglaise
Paired with Bellula Sparkling NV, France
Viennese-style coffee with orange liqueur and whipped cream
FINALE ENTERTAINMENT
Mad fun with Mad fun with Wolfgang Amadeus Mozart and Constanze Mozart
performed by Allen Law and Rebecca Morris
Mozart Opera Arias
ALL INCLUSIVE SEATS:
Cocktails, Five-Course Dinner, Wine, Champagne, Liqueur and Entertainment
Special NCSTAGE discount price $95.00
Sales Tax and Gratuity is included
ENTERTAINMENT CAST
Mad fun with Wolfgang Amadeus Mozart and Constanze Mozart and Mozart arias performed by Simone Bernhard
Wolfgang Amadeus Mozart performed by Allen T. Law
Allen T. Law (Wolfgang Amadeus Mozart) is honored to be a part of this collaborative production.  A new Ashevillian, he has performed locally with SART in Shunned and Smoke on the Mountain, Charlotte's Web with Asheville Creative Arts and the successful, cheese-filled tour of ITP's Live from WVL: It's a Wonderful Life.  Allen has a Bachelor of Fine Arts in Acting from Shenandoah Conservatory.
Constanze Mozart performed by Rebecca Morris
Rebecca is thrilled to be a part of this production! She was last seen on stage as an ensemble member in North Carolina Stage Company's five person production of Pericles. Favorite roles include: Milady in The Three Musketeers (Flatrock), Claire in Proof (Flatrock), Harper Pitt in Angels in America: Parts 1 & 2 (NC Stage), E-V in Fight Girl Battleworld (CF Productions), Geraldine Barclay in What the Butler Saw (NC Stage), and Mary Bailey in Live from WVL Radio: It's a Wonderful Life (itp/NC Stage).  Rebecca is a founding member of The Redundant Theatre Company Theatre, which has created and performed eight original plays.  TV Credits: Drop Dead Diva, Sleepy Hollow. Rebecca has also appeared in a number of short and feature length independent films.
Mozart Opera Arias performed by Simone Bernhard and piano accompanist
Simone Bernhard is a trained opera and jazz singer.  Bernhard is a Renaissance woman. In the late '90s, she was an assistant conductor of the Asheville Symphony. She's led church choirs and done jazz gigs and been a singer in a Motown band.  As Asheville's leading fashionista in her mix of vocations, she is a leader in fashion trends as a "modista" through her company, Chapeaux by Simone.  Selling hats vintage or vintage-inspired and fascinators, which she brings to life as beautiful accessories.