Meet the cast of Jeeves Takes a Bow and then grab your ticket!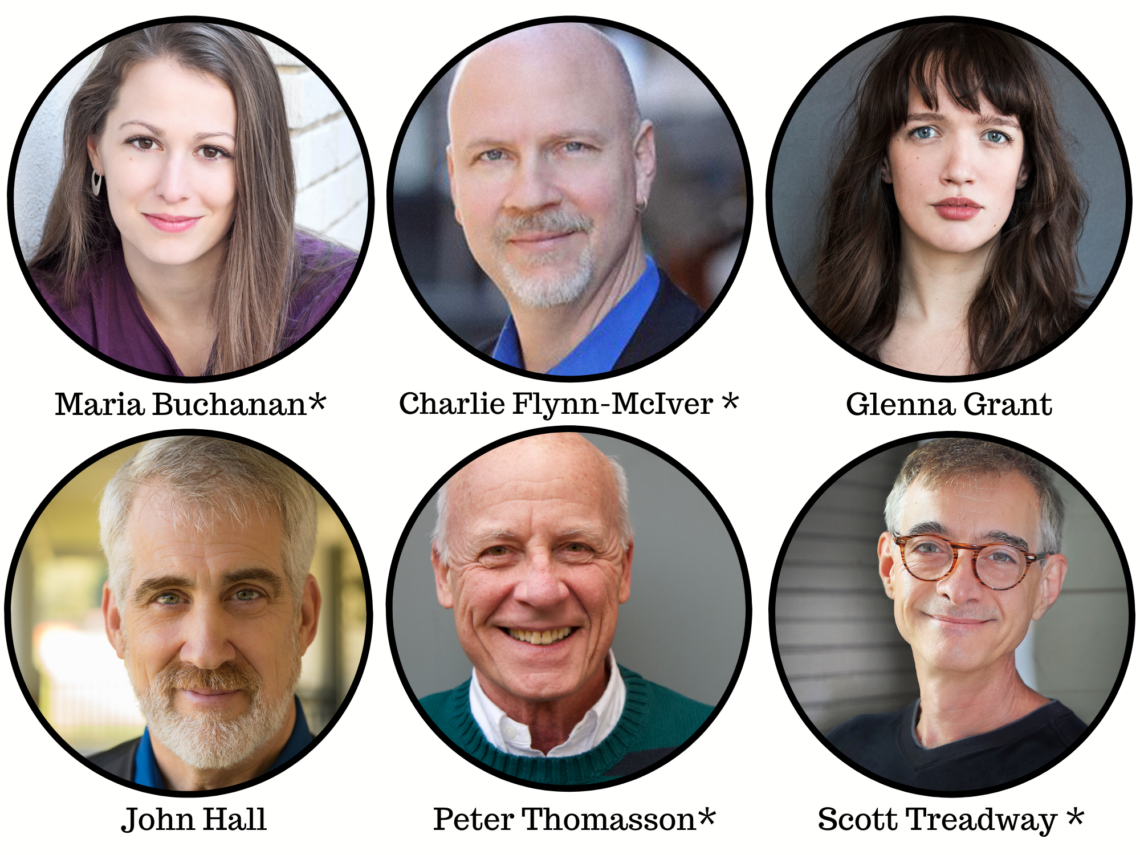 Maria Buchanan* (Ruby) Maria Buchanan is thrilled to be back to this delightful romp with some of her favorite folks. NC Stage credits: The 12 Dates of Christmas (2017 & 2019), Boeing Boeing, and the World Premiere of Brave New World the Musical among others. Other regional credits include: South Pacific, Gypsy, The Fantasticks, and A Christmas Carol (Flat Rock Playhouse), The Secret Garden and the World Premiere of 101 Dalmatians the Musical (Children's Theatre of Charlotte), and Live from WVL Radio Theatre: It's a Wonderful Life many times over with Immediate Theatre Project. Maria's alter-ego is Audience Relations Manager for NC Stage. She lives in Asheville with the most wonderful husband, old dog, and ebullient first grader.
Charlie Flynn-McIver* (Nigel Bingham Binkersteth) Charlie Flynn-McIver is the artistic director and co-founder, with his wife, Angie Flynn-McIver, of NC Stage Company. He has appeared most recently in Jeeves Intervenes, A Doll's House Part 2, and Stones in His Pockets as well as NC Stage's world premieres of Someone Else and Stalking the Bogeyman. At Flat Rock Playhouse, he appeared in The Odd Couple, 12 Angry Men and The 39 Steps. Some NC Stage credits include: Hamlet, Loot, Art, All in the Timing, Chesapeake, and Macbeth. National tour: Wit with Judith Light. Off Broadway: Ice Island, the Wait for Shackleton. Directing credits for NC Stage include: The Book Club Play, The Understudy, R. Buckminster Fuller: The History (and Mystery) of the Universe, Hedwig and the Angry Inch, Annapurna, 4000 Miles, All is Calm, Rapture Blister Burn, and Other Desert Cities. Charlie has a Bachelor of Music in Music Theatre from Shenandoah Conservatory of Music and an MFA in acting from the University of North Carolina at Chapel Hill.
Glenna Grant (Vivian Duckworth) is an actor, singer, and teacher currently based in her hometown of Asheville, NC. In over a decade as an NYC based actor, she's performed with such companies as The Public, LAByrinth Theatre, The Riot Group, and as a member of "The Bats" at the Flea Theater. She has previously appeared at NC Stage Company in The Revolutionists, Antigone, and As You Like It, and has played several iterations of Kitty Dayle in Immediate Theatre Projects beloved WVL Radio Theatre series. Offstage, Glenna has been seen on OWN's Queen Sugar, Fox's The Following, & Identification Discovery's Swamp Murders, among others. Her voice work can be heard in GTA IV: The Ballad of Gay Tony, GTA IV: The Lost and the Damned, Lucky 420, and Red Dead Redemption. A lifelong lover of Shakespeare, she maintains a focus on work that bridges the classical and the modern. In 2022, Glenna was able to apply that ethos to her directorial debut with Hamlet, with the Montford Park Players. Glenna holds a B.F.A in Acting from Purchase College.
John Hall (Knuckles McCann) John Hall returns to the Jeeves saga once again! NC Stage credits include several of the Jeeves plays and Amadeus. As artistic director of Mockingbird Theatre Productions, John has produced and performed in RED, Great Falls, and most recently, Birds of North America at the Black Mountain Center for the Arts. Locally he has performed as well with The Immediate Theatre Project, Southern Appalachian Repertory Theatre (as actor and director), Nightshade Theatre Productions, and Asheville Community Theatre. John is a nationally board certified teacher at ArtSpace Charter School in Swannanoa and enjoys being "Grandpa John" to three granddaughters.
Peter Thomasson* (Jeeves) last appeared in Jeeves Intervenes at NCStage. Last season at Flat Rock Playhouse he was Fr. Kelleher in the 1965 mystery, Catch Me If You Can and Guess Who's Coming to Dinner, as Matt Drayton. At Florida Repertory Theater he played the bad guy in And Then There Were None in which he murdered 9 people, 8 times a week.  That's a gratifying 72 a week. He reads plays with The Autumn Players on occasion & volunteers on estate sale day with WNC Bridge Foundation. He & his partner, Paul, are proud new grandpas to August Roy Adams, born July 14th, in St. Joseph, Michigan. Mr. Thomasson is a proud member of SAG, AFTRA, & Actors' Equity Association for 46 years.
Scott Treadway* (Bertram Wilberforce Wooster) This Jeeves production marks show number 23 at NC Stage for Scott. Based out of Hendersonville, Treadway has been a WNC actor for 40 years. Favorite shows (NC Stage & Flat Rock Playhouse) include: Rounding Third, Stones in his Pockets, Every Brilliant Thing, The 39 Steps, The Drowsy Chaperone, among lots more he's forgotten. Thank you for supporting this glorious theatre company!
*denotes member of Actors' Equity, the union of professional actors and stage managers
---
Jeeves Takes a Bow by Margaret Raether and based on the stories of P.G. Wodehouse will run at NC Stage from November 24 through December 17, 2023. Performances Wednesday through Sunday, regular priced tickets from $30-$50 with opening week specials as low as $6 per ticket! $10 student tickets always available. More information and tickets at ncstage.org. Toodle pip!