NC Stage is partnering with the Osher Life-Long Learning Institute (OLLI) at UNCA to bring our community members an insider's look at the production process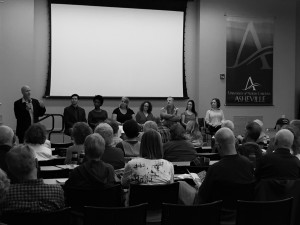 Join NC Stage artistic director and co-founder Charlie Flynn-McIver as he takes you behind the scenes of the professional productions of NC Stage, Asheville's downtown professional theatre.
We'll look into the themes, the rehearsal process, and the design process of each production. Flynn-McIver brings in the actors, directors, and designers to share their perspective (you may even see a live scene or two from the production). Get an insider's look at the workings of a professional theatre.
The next lecture will occur on Friday, January 29, 2016, 1:30 p.m. at UNCA's Reuter Center and looks at the play Jeeves Intervenes, adapted from the stories of P.G. Wodehouse.
For more information about OLLI, visit https://olliasheville.com/