Congratulations to the winning ticket!
Number 343!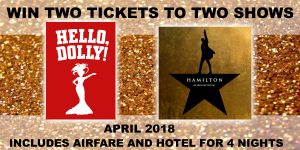 THIS EXPERIENCE INCLUDES:
*Two Tickets to see HELLO DOLLY –  Friday, April 27, 2018 at 8:00pm. Orch right, Row H seats 2 & 4. Seat 2 is on the aisle.
*Two Tickets to see HAMILTON –  Saturday, April 28, 2018 at 2:00pm. Orch, Row B, seats 106 & 107.
*Round-trip Airfare for Two
*4 Nights of Hotel accommodations in NYC
Suggested Retail Value: $5,000
Only 500 raffle tickets will be sold!

Purchase online, by phone during box office hours (Mon-Fri 12 PM – 5 PM) at 828-239-0263, or by mailing the Hamilton – Dolly entry form to 15 Stage Lane, Asheville NC 28801.
The drawing will take place on February 18th, 2018 or as soon as all of the tickets are sold.
This is a fundraising project and all ticket sales benefit the North Carolina Stage Company. Tickets may be sold to employees, Board Members and other affiliated persons. You don't need to be present to win. If 200 tickets are not sold, a full refund will be provided and the raffle will not occur. North Carolina Stage Company is a North Carolina 501(c)3 corporation registered with the Secretary of State.