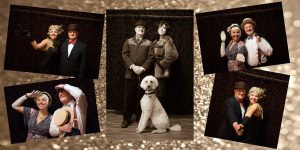 Feel like putting on the Ritz? Come and join us for a live theatre experience extraordinaire! Dress in your finest 20's clothes (if you wish) and be served complimentary Hors d' oeurvres and drinks. Enjoy the performance of Jeeves Takes a Bow and our in house photographer will take a picture of you and your friends after the performance to capture this special moment. Let's get together and celebrate one of Americas glitziest time periods.
Saturday February 3, 2018 – Whoopee Saturday
Enjoy Hors d' oeurvres catered by Greenlife Grocery and a sweet surprise as well as delightful drinks.
Sunday February 4, 2018 – Tea Time Sunday
Enjoy Petit Fours by Karen Donatelli and afternoon sandwiches catered by Greenlife Grocery and delightful drinks including a tea bar.