Stay tuned for information on the 2022 Intergenerational Theatre Workshop!
---
The Intergenerational Theatre Workshop is a free program that brings together teens and young adults (ages 17-23) and elders (ages 60+) to share their stories and create an original performance piece inspired by each other's lived experiences.
Participants discover, express, and connect through interviews, writing exercises, and theatrical explorations. The program culminates in a public presentation where participants perform their own work-in-progress together.
No theatre experience is required to participate!
---
How Participants Are Selected
Space is limited and we wish we could open the experience to everyone who is interested.  The program is ever-evolving and over time we hope to broaden how it works.
Participants are selected through an application and an interactive group interview. Once applications have been reviewed, candidates will be contacted to schedule your session.
The goal of the group session is to provide potential participants with a glimpse of what it's like to be a part of the theatre workshop. There will be up to 6 applicants in the room for each session and folks will be interacting with each other through a few short exercises. 
No preparation is required – just bring an open mind! If you have any questions about the program, there will be a chance to ask them during the group meeting.
---
Attendance
Every participant matters!  Most of the workshop experience happens with partners or larger groups and if one person is missing, the whole group is affected.  It is important for every participant to attend every session and to see the workshop through to the end.
---
Contact Information
Please do not hesitate to contact us with any questions you might have!
[email protected] or (828) 239-0263.
---
Gratitude!
Special thanks to the New York Theatre Workshop, Alexander Jirau-Santiago and theatre artist Andrew Garrett for their partnership and encouragement, to Asheville advocate Blair Fielding whose passion for intergenerational community brought us all together, theatre artists and educators Patrice Foster and Julia Christgau for their generosity and brilliance braving the first year of a virtual workshop, and to all the amazing AARP volunteers who have helped us make this program happen since 2018.
Thank you!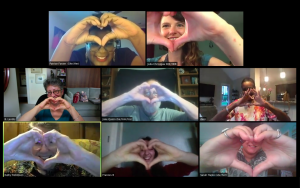 Sponsored by

Supported in part by The Walnut Cove Members Association