In the beginning of the script for Annapurna, the playwright Sharr White describes the setting of the play.
Setting.  Spring in a dilapidated mobile home in Paonia, Colorado: kitchenette, dinette, small couch.  The light is in general a high-altitude light, thin and sharp.
Using this description and her imagination, our Scenic Designer Julie Ross comes up with a design and a plan for the set.  In one of our early production meetings, Julie spends time describing this plan to other members of the artistic team including the director, costume designer, props designer, and stage manager.  She uses a color elevation to help describe her vision.  You can see that color elevation pictured below.
Of the design, Julie says, "with the set I was trying to portray the distinct polarities between the vast expanse of beauty in the outdoors and the small, cramped camper that Ulysses chooses to confine himself within. This will hopefully raise the question of why he has made this choice to be a shut-in as well as hinting at the back story and his eccentricities that have brought him to where he is today."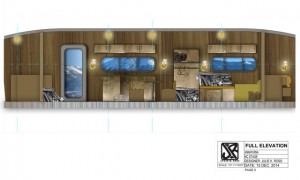 While the designer's plan is exciting and looks great it also raises some questions.  Will each room in the mobile home be separated with doors?  Yes.  Okay, well how about sight lines- are we blocking any of the audience from seeing the show?  Hmm.  We will have to spend some time thinking about that one.  Eventually, the team comes up with a way to build the set that will give the audience the very best view inside the trailer.  What about the background of the mountains- should we paint it or print a high resolution photo?  The team thinks through every detail of the set to give the best experience to our audience and keep the playwright's intentions at the forefront of our design.
What happens next?
Well, the designer turns her plans, which include the color elevation but also detailed blue prints for building, over to our Technical Director and Set Builder, Catori Swann.  Catori and his team get to work.  The next phase looks like this:
It quite clearly isn't ready yet, but now we have walls and a floor for our mobile home.  Now the team will put in carpeting and panel the walls.  Then they will have to build separation between interior walls and put in furniture.  When they finish rendering the set, the props designer will start moving her things in to "dress the set."
We hope you will stay tuned!  We will keep you updated with more about this production and set build as we move towards Opening Night.
Ready to get your tickets?  Click here.