What's book club without wine and hors d'oeuvres? The characters of The Book Club Play mention some of their favorite dishes in the show, and now you can join them! Below is the first recipe we'll share: Lox Dip a la Ana!
PLUS we partnered with Metro Wines Asheville to give you some wine pairing recommendations that you can pick up at a 15% discount! Scroll down to learn more.
Lox Dip
Prep time: 10 minutes | Serves 8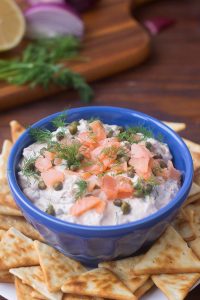 1(3.75 oz.) can sockeye red salmon, not drained
8 oz. cream cheese, softened to room temperature
½ cup sour cream
2 Tbsp. lemon juice
1 tsp. salt
½ tsp. pepper
½ tsp. garlic powder
4 oz. smoked salmon, finely chopped, divided
¼ cup minced red onion,
¼ cup finely chopped fresh dill, plus more for garnish
2 Tbsp. capers, finely chopped, plus more for garnish
Into a food processor put the canned salmon and liquid from the can, cream cheese, sour cream, lemon juice, salt, pepper, and garlic powder. Process until smooth.
Using a spoon, stir in all but 2 tablespoons of the smoked salmon, the red onion, dill, and capers.
Transfer dip to a serving bowl. Garnish with a teaspoon of extra capers, the remaining chopped smoked salmon, and 1 tablespoon of dill fronds.
Cover with plastic wrap and refrigerate for up to 1 day before serving.
Source: cookthestory.com/lox-dip
Wine Pairings via Metro Wines
The white should complement the deep briny lox and fresh dill flavors. For reds, Pinot Noir is considered the classic pairing for salmon. A crisp rose sparkling has the best qualities of both and the bubbles help make the occasion festive.
CMS Sauvignon Blanc blend  $16: The Sauvignon Blanc provides refreshing acidity and a touch of green apple and lemon curd to pair with the dill. The Chardonnay and Marsanne add texture and elegance.
Grochau Commuter Cuvée Pinot Noir  $22: The low oak allows the fruit to shine through, producing a wine that is bright, fresh and pure. A blend of several vineyards captures the character of each vintage.
Franck Besson Rosé Granit sparkling $24: Fresh and lively, this French Crémant lives somewhere between a red wine sparkler and a typical rosé. Red cherries with minerality that finishes clean and dry.
To redeem the discount, call 828-575-9525 and Metro Wines can provide details regarding curbside pickup. You can pay over the phone or when you arrive.