Jim Cavener was very gracious to write a review for Jeeves At Sea, which is now playing at NC Stage until Sunday, February 24th. Cavener was a theatre writer for The Asheville Citizen Times for more than 33 plus years. We are pleased to post the reviews that Jim will be writing for our productions.
---
Jeeves At Sea Review by Jim Cavener
Ear to ear grins are rampant these weeks at downtown Asheville's North Carolina Stage Company. At the conclusion of a recent performance of NC Stage's "Jeeves at Sea" one venerable and worldly theater maven from Tryon was heard to mutter "It's not often I spend 90 minutes with non-stop smiles."  Yeah, this show fully merits the too-frequently uttered, and usually undeserved phrase "A Laugh Riot!."  And who'd expect anything less from this annual mid-winter excursion into hilarity as presented by some of Asheville's most capable thespians, known for both underplayed and overplayed looniness.
Bordering on slapstick — with barely uppercrust restraint — the show is yet another of the zany comedies by Margaret Raether, based on the classic characters from 20th century novels by P. G. Wodehouse. Wodehouse brought to life Jeeves, the unflappable and understated brilliant manservant of a scatterbrained and mindless British aristocrat with more largesse and prestigious connections than good sense or street smarts. Could Bertie Wooster tie his own shoes (much less his necktie) without assistance of Jeeves, his valet?  That remains to be proven. No evidence of any skills has been seen in this series of shows.
The classic farce has several doors that are slammed with great frequency as a large cast races in and out, with big-time frenzy. Call "Jeeves" a mini-farce — only six characters and three doors, and none are ever slammed — thanks to the fine stage design and construction by Julie Ross and company. This show's backdrop evokes the fine nautical teak deck walls with finely wrought portholes of the Vanderley yacht on which Bertie and Jeeve are luxuriating.
The set is simple, with deck chairs and life-preservers on the stage edges to evoke the luxury of being at sea. This limits the avenues of escape always needed in these tightly wrought scripts where Bertie (Scott Treadway) or his pal Sir Percival Everard Crumpworth/Crumpet (Charlie Flynn-McIver) are always in danger from forces that only Jeeves (Michael MacCauley) can overcome. This trio works as a unit after many similar castings. They demonstrate ensemble acting at its best. There are multiple intentional mistaken identities — another aspect of a farce — in an attempt to avoid the vengeance of an outrageously characterized German Count Otto von Dietrichstein (Ryan Mitchell). This is one of the most marvelously over-the-top portrayals undertaken on any stage in this writer's long theater experience. Mitchell is newly from the D.C. area, and if he sticks around town he'll be seen on many more stages. The kid's got chops and knows how to display them.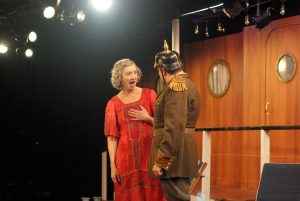 But, wait — WAIT — there's more:  as though the convolutions evolving from an insulted prince, and a militaristic maniac aren't enough of plot twisting, we must have a duo of classy British broads who intertangle romantically with each of the four men in the cast.  Lady Stella Vanderley (Carin Metzger) is hosting aboard the Vanderley yacht, and her lady-in-waiting, Miss Minerva Pilbeam (Paula O'Brien) each bounce around from attractions with one or more of the male characters. Playwright Raether can't leave wild enough alone. It gets wilder and wilder for the whole of the 90-minutes of this short, but potent plot. Period 1920s costumes by Victoria Depew give these women great opportunity for displaying their style.
So, while the author, Wodehouse, was British to the core with a Knighthood to prove it, and a contemporary of Evelyn Waugh, Rudyard Kipling, A.A. Milne and A.E. Houseman, Margaret Raether, the woman playwright who stole Bertie and Jeeves into magical stage presences, is a thoroughly American writer. Regardless, the Britishisms are abundant and totally charming.
NC Stage early on had the wisdom to tap Co-founder and Producing Director Angie Flynn-McIver as the director of each of these "Jeeves" productions, and her deft hand and full understanding of the genius of the genre have given them all the panache to achieve the success they have received. Her casting of the supportive roles in each of the four productions has fully complimented the three primary roles at the core of the hilarity.
"Jeeves at Sea" is the fourth annual NC Stage January opening of a Wodehouse derivative by Raether. Previous scripts were called "Jeeves Takes a Bow," "Jeeves Intervenes," and "Jeeves in Bloom." Auspiciously scheduled for the dark of shortened days when anything light is to be cherished, this yearly delight should become a regular event. It's January, it must be "Jeeves."