Written by: Marie Jones
Directed by: Neela Muñoz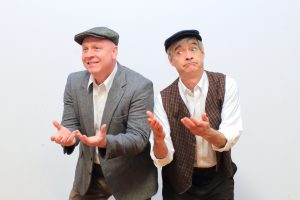 The drama is set in a rural town in County Kerry, Ireland, that is overrun by a Hollywood film crew. The play centers around two friends, Charlie Conlon (played by Scott Treadway) and Jake Quinn (played by Charlie Flynn-McIver), employed as extras on the film. Charlie has aspirations to get his script made into a movie. Jake has recently returned from New York and is mesmerized, along with everyone else, by the star of the movie, Caroline.
Join Charlie Flynn-McIver and Scott Treadway as they play all 13 characters, including  a local teenager, Sean Harkin, and Caroline, a beautiful American movie star that fails to ever successfully conquer the Irish accent. Returning to the NC Stage to reprise these roles for the first time since 2006,  Scott and Charlie take on a play that displays a comedic yet tragic take on the effects of the Hollywood dream in a small Irish town.
Discretionary Content – Adult Language
COMPANY
Scott Treadway
Some of Scott's favorite previous roles include Malvolio, Twelfth Night; Austin, True West; Mike, Rounding Third; Selznick, Moonlight and Magnolias; Harry, The Understudy; and Charlie, in a previous production of Stones in His Pockets. But his favorite role of all is Papa of Miss Ava Marie.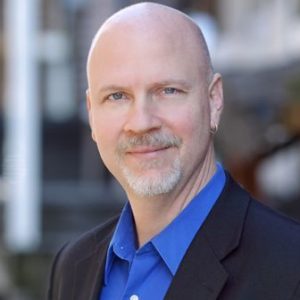 Charlie Flynn-McIver
Charlie is the Artistic Director and co-founder, with his wife, Angie Flynn-McIver, of NC Stage Company. He has appeared most recently in King Mackerel and the Blues are Running, Jeeves in Bloom, Jeeves Intervenes, Jeeves at Sea, Don't Dress for Dinner, Rounding Third, Pericles, NC Stage's World Premiere: Someone Else and Stalking the Bogeyman, Complete Works of William Shakespeare (abridged), and Boeing Boeing. At Flat Rock Playhouse he appeared in The Odd Couple, 12 Angry Men, and The 39 Steps. Prior to moving to Asheville, Charlie lived and worked as an actor in New York, including a production of Stones in His Pockets. National Tour: Wit with Judith Light. Off Broadway: Ice Island: The wait for Shackleton (Melting Pot Theatre). NYC: A Wrinkle in Time (Lincoln Center Institute). Directing credits for NC Stage include Grounded, The Book Club Play, The Understudy, R. Buckminster Fuller: The History (and Mystery) of the Universe, Hedwig and the Angry Inch, Annapurna, 4000 Miles, All is Calm, and the Catalyst production of Fight Girl Battle World. Charlie has a Bachelor of Music in Music Theatre from Shenandoah Conservatory of Music and an MFA in Acting from the University of North Carolina at Chapel Hill.