Jim Cavener was gracious to write a review for It's a Wonderful Life, which is now playing until December 15th at NC Stage. Cavener was a theatre writer for The Asheville Citizen Times for more than 33 plus years. We are pleased to post the reviews that Jim will be writing for our productions.
---

Commentary on Live from WVL: It's a Wonderful Life at NC Stage – by Jim Cavener
     In the annals of annual 20th century holiday entertainment, one of the most endearing and enduring examples is Frank Capra's famed 1946 film "It's a Wonderful Life," which now ranks with Charles Dickens' "A Christmas Carol" and Tchaikovsky's "The Nutcracker" as a popular seasonal favorite. Like those others, "It's a Wonderful Life" has numerous spin-offs and variances, one of the more clever and successful adaptations of which was created by Asheville theater personality, Willie Repoley.
         At the end of WWII, Capra and a couple of fellow writers came across a short story about a struggling young man who was self-defeating in his selflessness, failing to recognize how effective was his influence of generosity over greed. They wrote, and Capra directed the famed film starring Jimmy Stewart, Donna Reed and Lionel Barrymore. It chronicled the life of a young George Bailey and his struggling Building and Loan Association, which was trying to save the dignity and survival of the residents of the mythical Bedford Falls, NY, during the Great Depression of the 1930s. The show was not an immediate success, but has gained iconic status in the decades since.
          A decade or so ago, Repoley and his Immediate Theatre Project — a Partner in Residence of Asheville's renowned North Carolina Stage Company — concocted a quite different take on this Bedford Falls morality play. Set as a radio reading of the tale of George and Mary, a Guardian Angel named Clarence and the evil incarnate Mr Potter, four actors were reading the script and giving voice to countless other characters in the story of the salvation of Bedford Falls. It's fully a fantasy with celestial voices and high drama and a warm and fuzzy resolution.
        But, wait, WAIT, there's more:  With a clever twist this live broadcast at the peak of radio's pre-TV power in the lives of the American public the four voices are staff members and family from the station, forced to take over these roles when the scheduled actors and support persons fail to show. These pinch-hitters are also required to do a miraculous job of creating all the sound effects necessary to create the magic of pre-recording live radio. It's this zany improvisation that gives the production the bordering-on-farce, almost slapstick quality that successfully blends the comedic frenzy with the charm of a sweet story.
        The show has several comparable elements with the late radio classic "Prairie Home Companion."  Bedford Falls is an earlier Lake Woebegon, the imaginative sound effects created before our very eyes are reminiscent of Fred Newman's (earlier Tom Keith) phenomenal creations on PHC. Egg beaters in a ceramic bowl, shoes shaped against each other, cabinet doors and tables full of 'stuff' are used to create transitional and imitative sounds as the cast of four dash between two microphones on stands and tables, and the mix of flying pages of script, darting actors, and kookie sounds create an exhaustive and exhilarating experience.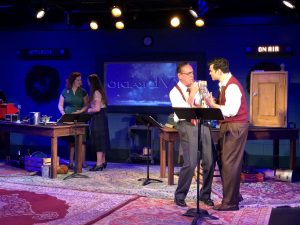 The Christmas connection is tenuous, save for the opening scene being on Christmas Eve, with flashbacks to the 1920s, then the Great Depression and through the Second World War. The message of this story is that of selflessness and the rewards of eternal verities over greed and grasping. George Bailey is the consummate EveryMan who struggles with what to do with his life, and discovers fulfillment from his record of concern for others.
        "Live from WVL Radio Theatre: It's a Wonderful Life" was first performed by Repoley's Immediate Theatre Project in 2009.It has been produced at NC Stage on several occasions and some of the same casts have appeared in both Charlotte and Hendersonville.Intermediate Theatre Project also has a touring company which in past years, has taken this show 'on the road' and is now out appearing in such venues as Maryland, Iowa, New York state, Georgia, Illinois, New Hampshire, Milwaukee, Virginia, Alabama and Isis Music Hall in West Asheville.
         The current Asheville cast at NC Stage includes Maria Buchanan, Samantha LaBrocq, and NC Stage veterans Michael MacCauley and Willie Repoley. Each actor has a primary role (i.e., George, wife Mary, despot Mr Potter, et cetera) but each does scores of other voices and generates sounds of crowds and other special effects. Their energy levels are high, as demanded by the script, and each does extraordinary vocal variations under the skilled tutelage of the show's director Charlie Flynn-McIver
         The support crew of technical theater includes technical director Burt Cook, scenic designer Julie Ross, props design Kenneth Horgan, sound design Charlie Flynn-McIver, original music Nathan Shirley, electricians Yu Lie and Reed Simiele, costume design Casey Watkins, lighting design Jordan Vera and stage manager Amelia Driscoll.
---
To read review on It's a Wonderful Life from Asheville Stages, click here!