We are excited to announce our 2014 Catalyst line-up!
Did you know that all of the offerings below are included in our Super Pass and our Membership in addition to the 6 Mainstage shows of the season?  Hurry!  Our Subscription Offer expires on September 15th, 2014.
Here are some great local productions happening at NC Stage as a part of our Catalyst Series:
Dark Horse Theatre Company presents Pontypool  September 17th- September 27th, 2014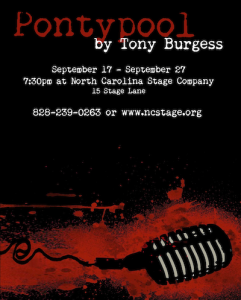 This show is adapted from the 2008 horror film of the same name.  The writer, Tony Burgess, is allowing four indie arts groups to perform the yet to be released play adaptation of the film.  The play is about three employees are hard at work at the local Asheville radio station on Valentine's Day.  As we all tune in on-air reports start coming in about a virus that is turning people into lunatics on the hunt for blood.   Did we mention there are some crazy special effects?  Click here for more information about Dark Horse Theatre Company.  Get tickets here.
Impossibilities Magic, Mindreading, and Mayhem October 3rd- October 5th, 2014
Magical Comedian Chris Collins and Master Mentalist Erik Dobell have teamed up to bring you a night of stunning magic, reality shattering mindreading and hilarious mayhem. A night where impossibilities are brought to life right in front of your eyes.  With a combined 40+ years in the art of magic, Chris Collins and Erik Dobell have traveled from Las Vegas to South Korea performing their award winning shows for audiences and companies such as the NFL, Sony Electronics, and Carnival Cruise Lines. Now it's your turn to see the best magic has to offer!  For more information about Impossibilities Touring Company click here.  Get tickets here.
RoseLynn Katz Presents A Visit with Golda Meir  October 8th- October 19th, 2014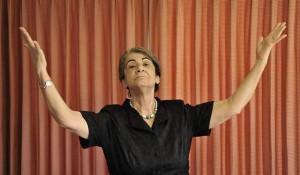 This one woman show is a powerful portrayal of world leader Golda Meir.  To read the review in the Asheville Citizen-Times click here.  More information to come!  Get tickets here.
  Barbara Bates Smith presents Ivy Rowe  October 30th- November 2nd, 2014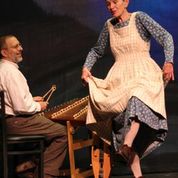 This performance is a benefit for the Haywood Street Congregation.
Actress Barbara Bates Smith, noted for her Off-Broadway performance of Ivy Rowe, adapted from Lee Smith's bestselling novel Fair and Tender Ladies, now celebrates her 25th year of touring with this weekend of performances at NC Stage.  Musical accompaniment by Jeff Sebens.  Quoting from the Lee Smith novel, "I used to be a scandal; now I'm an institution!" Barbara describers her more than 700 times of portraying this fiesty mountain woman's life of "livin' on love," even as she takes a stand against the coal company's bulldozer.
The weekend of shows will benefit the Haywood Street Congregation, a service ministry where both homeless and housed enjoy food and fellowship.  Other features includes a clothes closet, a garden, a worship service led by Brian Combs, a respite center, and even a haircut corner!  You can find Barbara there as she greets guests and leads a story circle.
To find out more about Barbara Bates Smith click here.  Get tickets here.
Stay Tuned!  More to come in 2015!