Welcome to NC Stage!  We are delighted to have you join us.
We want to help you get ready for your first visit to NC Stage.  Are you having dinner downtown before the show?  Check out our food and drinks guide to learn more about some of the delicious offerings nearby.  If you are visiting from out of town, here is a list of our favorite places to stay.
Let us answer all your questions!
Where is Stage Lane?
Stage Lane is located right off of Walnut Street near the intersection of Haywood Avenue.  Check our our Parking and Directions page for a map.  Here is a view of the outside of the theatre from Walnut Street to help you find us on your first visit.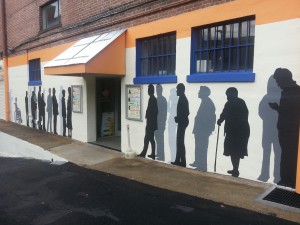 What time should I arrive?
We suggest that you plan to arrive at the theatre a half hour before curtain.  This gives you plenty of time to pick up your tickets, visit the restrooms, and stop by the concessions bar.
What happens if I am late?
Late seating is at the discretion of the House Manager.  We will do our best to get you into the theatre quickly.  It is not always possible to get to your ticketed seats after a performance has started, but we will make sure you get to your original seats at intermission.
When do I clap?
One of our favorite things about our space is having the audience be swept up in the shows and react honestly during the performance.  You should feel inspired to laugh, cry, and clap throughout the performance.  If you feel nervous, you can take your cue from the folks around you.  We promise you will feel at home in no time!
What if I need to use the restroom during a performance?
We have a friendly team of ushers standing by to help assist you in and out of the theatre should you need to leave during the performance.
Where do I park?
Check out our Parking and Directions page to find the scoop on parking and a map to guide you to the theatre.
Is NC Stage ADA Accessible?
Yes.  We offer seating for wheelchairs with companion seating.  If you need assistance or have special accommodation requests please call the Box Office at (828) 239-0263.
Can I bring my kids?
Yes.  NC Stage offers some programming during our season that is designed for youth.  For our Mainstage performances, age-appropriateness varies.  We offer a content guide for all of our performances that can be found on the ticket page of each production. Feel free to contact us with questions about the suitability of a production.
Can I take pictures?
In order to protect our designers and artists, photography is not permitted inside the theatre.  However, we encourage you to take photos with your friends in our  lobby.  Bonus points if you post it on Facebook!
Do you allow cellphones?
NC Stage is an intimate space in which the use of cell phones, beepers, pagers, etc. are very distracting to performers and other audience members. We will remind you to silence your phones before each performance.
What should I wear?
Patrons at NC Stage dress in all kinds of attire from cocktail dresses to blue jeans.  We encourage you to wear what makes you comfortable.  We promise you won't feel out of place.
How can I learn more about the show before I attend?
Check out our blog for insider content and context about our upcoming performances!
Can I bring my pets?
NC Stage is happy to accommodate service animals at the theatre.  For the safety and enjoyment of other patrons, we do require that service dogs have proper identification.
I have a question you haven't answered yet.
Oops!  Give us a call at the theatre (828) 239-0263.  We are always happy to help!