We open with the highly personal, extraordinarily informative, and achingly human play What the Constitution Means to Me by Heidi Schreck. Nominated for two Tony Awards and a Pulitzer Prize finalist, this play offers a provocative and often comedic balance of history and eye-opening narrative leading The Washington Post to say "it would be hard to identify a work with its finger more on the pulse of America right now."

Up next? An intimate and expansive new two-hander by Samuel J. Hunter (author of The Whale) which sees two —seemingly very different— men exploring parenthood, financial insecurity, empathy, and their own individual struggles that end up feeling much more similar than they first thought. A Case for the Existence of God is a thoughtful and meditative play that New York Theatre Magazine called "sublime".

The hilarious coming-of-age comedy Incident at Our Lady of Perpetual Help by Katie Forgette opens 2024 and brings with it 19 year-old Linda O'Shea attempting to explain— at the request of her mother and to the horror of the local Catholic parish— the birds and the bees to her little sister. "A hysterical peek at a family navigating the cultural peaks and valleys of 1973 to the best of their ability." -Splashmags.com

In the spring, we'll welcome a new play by Jen Silverman (also playwright of The Roommate, produced at NC Stage last season). An inventive retelling of a Jacobean drama, this darkly humorous play is a pitch black fairy tale for our times tackling the age-old problems of avarice and sexism through a devil, an accused witch, and the community who has condemned her. "Raging, hopeful, weeping: No matter how you leave Witch, you won't leave unscathed."- Windy City Times

The final show of the season is the George Stevens Jr. biodrama Thurgood — which New York Theatre Guide called "engaging, informative, amusing and inspiring"– following the life and activism of the first Black American Supreme Court justice, Thurgood Marshall. Justice Marshall is credited with paving the way for young African American leaders and this play is a testament to the hard work and dedication that earned him a Supreme Court nomination in 1967 and how his legacy still resonates today.

These five plays will all be included in the 2023-24 Season Pass! Grab yours today and join us for a fantastic season.
Extra Special Events! (not included in season pass)
First, we have some very good news for lovers of British comedy, P.G. Wodehouse, and everyone's favorite valet, Jeeves…
We invite you to join us after Thanksgiving for a surprise encore performance of Jeeves Takes a Bow! Hapless bachelor Bertie Wooster and remarkable manservant Jeeves embark on a New York adventure and quickly find themselves knee-deep in trouble with vengeful gangsters, bawdy chorus girls, and a new Broadway musical in this delightful romp from self-proclaimed Wodehouse aficionado Margaret Raether.
This special event is not part of the 2023-24 Season Pass, but a pass will get you 10% off tickets!

Finally, travel with us all the way back to ancient Greece and the writings of Sophocles with the NC Stage Community Tour production of Antigone.
This special performance will sit down at NC Stage for two weeks in August 2023 before embarking on a tour of Western North Carolina. Tickets to experience this dynamic, bare-bones, story focused play with music will be available soon!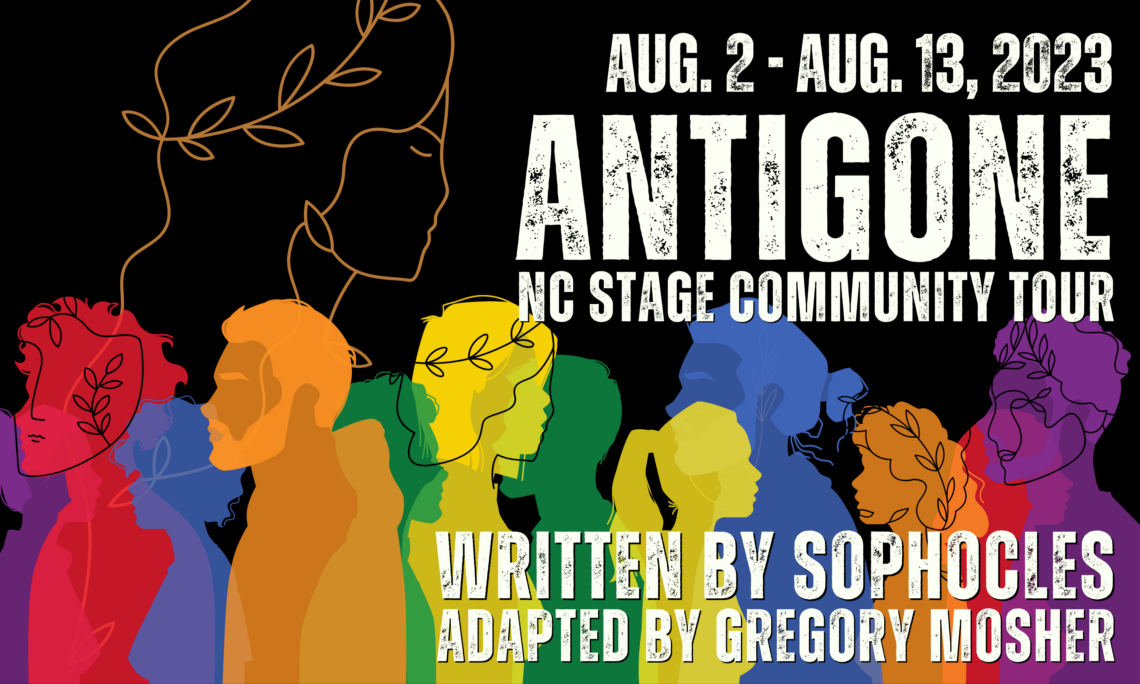 We're so excited about what's in store for the upcoming season and look forward to seeing you at the theatre!