If you have been following along with us as we produce Annapurna by Sharr White, you know by now that it takes a village to put together a production.  If you need to catch up- check out this post about the work of Scenic Designer Julie Ross starting with her original set design drawings, or check out this time lapse video of Technical Director Catori Swann actually building the set.
Today, we are talking with our props designer, Jessica Tandy Kammerud, about how she imagines and creates a world for the actors by dressing the set and putting the tools they need to tell this story right in their hands.
Here's the set-up:  Ulysses is a poet and former professor who has been estranged from his wife for twenty years.  He lives in a trailer in the middle of nowhere.  He is a misanthrope who has all but given up when his wife Emma shows up on his doorstep.  Ulysses is played by Michael MacCauley and Emma is played by Callan White.
What exactly does the living quarters of such a man look like?  Well, in our world, like this: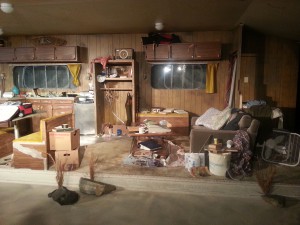 So much junk!  In fact, we have to stop our Stage Manager and Crew from the impulse to clean things up!  Crooked furniture, trash, and clutter cover the set.  Let's take a closer look at some of the props choices that help make this junky set the perfect playground for our actors.
Let's start with the entryway.  What does it feel like to walk into this trailer from outside?  The entry door is upstage left.  This is how the actors see it when they walk in:
This is the view of the entrance as if you were entering from backstage.  Fun Fact: The map on the left was already on the airstream door when we re-purposed it for this set.  Before the actor even steps on stage, they can already see some of the clutter.  This helps Callan, playing Emma, imagine what it must be like to walk in on such a mess.  As soon as you walk in, you are met with dirty floors and a cinder block shelf with bills sliding into the floor.  Jessica explains, "Ulysses didn't think he would see anyone ever again.  Where he leaves things is where they stay.  At some point the bills started sliding into the floor, and that is where they are left."  She also points out the dog bowl for the dog that never appears on stage.
Next, we move into the kitchen.  What happens to Ulysses when he loses a knob off his cabinet?  Would he replace it with a brand new one?  The design team doesn't think so.  Did you notice the mismatched kitchen knobs when you saw the production?
When we zoom in even closer, you can see that Ulysses has these odd floral lamps for lighting on the wall.  Jessica explains that some of these set and props choices were made because they were so right for the character- the clutter, the moldy dishes- and some were made because they were so wrong for the character- the floral lamps- because he inherited this trailer and wouldn't take the time to make it his own in his current state of not caring.  The pots and pans would have been things he found on the cheap, or even used and passed down from a previous owner.
A few last things about the kitchen.  Yes, the sausage is real and frying during the show!  All of the appliances work.  Also, you probably wouldn't notice this from your seat in the theatre, but the coffee pot is actually growing mold.  Jessica cheerfully points out that this isn't actual mold, but rather some fake moss.
One of the things I thought was really interesting as I walked through the set with Jessica is that she talks about her choices for two groups.  On the one hand she has to design stage dressing that is appropriate and interesting for the audience we are inviting into this world, but on the other hand she has to design a world that the actors can really believe in while they are making choices on stage.  Here is an example:  Let's take a look at the closet.
In the picture on the left, you notice there are some books stacked.  Even at this close range, we can't tell what they are.  For the purposes of adding books to the shelf as clutter, Jessica could have added any books, but instead she has to figure out what will best serve the actor.  She chose volumes of poetry.  It might be hard for Michael (playing Ulysses) to tell the story as a poet with the Twilight series lining his shelves.
We see that same logic in the clutter of the back bench, which literally no one but the actors can see.
The picture on the right shows the general clutter, but when we zoom in on the left we can see this stack of books is all poetry.  Fun Fact: Most of these books are signed copies from poets who read at our Altamont Poetry Series.
I asked Jessica what helped inspire such specific choices about this poet and his life.  She laughs and says, "Well you might know my roommate is a poet.  That focus on your work that makes poets unique is something I am really in tune with."  In fact, Ulysses is working on a poem during the show.  It required Jessica to have an entire box full of paper towels and napkins with poetry scribbled on them.  She had a get together of poets at her house and during the evening she asked them to write their own lines of poetry and thoughts on the papers.  So when you see the sheets of poetry on our stage- they are real, handwritten by local poets!
One last interesting closet prop.  Where did Jessica find this awesome radio?  On the side of the road in Asheville!  If you look closely, you can see where they marked their favorite stations.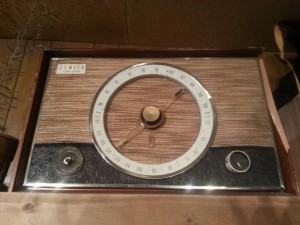 I hope you enjoyed your behind the scenes tour with Jessica as much as I did.  Have a question about designing props that we didn't answer?  Shoot us an email to [email protected].  We would love to tell you more!
If you want to see more of the amazing work of our props designer, come see Annapurna at NC Stage through February 22nd, 2015.