By Lauren Gunderson
Four badass women lose their heads in this irreverent, girl-powered comedy set during the French Revolution's Reign of Terror. Playwright Olympe de Gouges, assassin Charlotte Corday, former queen (and fan of ribbons) Marie Antoinette, and Haitian rebel Marianne Angelle hang out, murder Marat, and try to beat back the extremist insanity in 1793 Paris. It's a true story. Or total fiction. Or a play about a play. Or a raucous resurrection…that ends in a song and a scaffold.
From the people who brought you Silent Sky comes this grand and dream-tweaked comedy about violence and legacy, art and activism, feminism and terrorism, compatriots and chosen sisters, and how we actually go about changing the world.
Discretionary Content: Adult themes and badass ladies
---
---
Regular Ticket Pricing $26-$46/Student Tickets $10
*Please note: we are no longer leaving empty seats between orders for the purpose of social distancing.
Please contact us if you have questions about our current COVID policy*
---
Virtual Tickets are Now Available!
Whether you're traveling, sick in bed, don't like wearing a mask, or just prefer your own snacks to those from our concessions area,
you can still join us from wherever you might be for Immediate Theatre Project's production of The Revolutionists!
Performances on
Friday, June 2 at 7:30pm
Saturday June 3 at 7:30pm
and Sunday June 4 at 2pm
will each be livestreamed via Stellar Tickets/Broadway on Demand.
After your ticket purchase, you will receive information from Stellar Tickets about your order. You will be asked to take a moment to create a password and will use this password when you access the livestream on your chosen date (similar to other streaming services). You will receive information about the livestream 24 hours before the show and 1 hour before the show. As this is a livestream, viewing will only be available during the time of the in-person performance, and will not be accessible any other time.
The Revolutionists runs 2 hours and has one 15 minute intermission.
Get your tickets now and enjoy the show virtually!
---
Onstage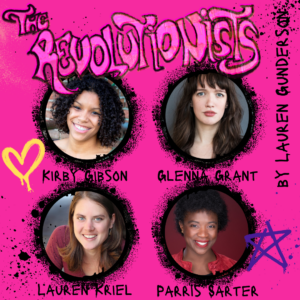 Kirby Gibson as Charlotte Corday
Glenna Grant as Marie Antoinette
Lauren Kriel as Olympe de Gouges
Parris Sarter as Marianne Angelle
Backstage
Willie Repoley Director
Dakota Mann Production Stage Manager
Des Brotak Dramaturg
Jason Williams Lighting Design
Bailey Gafeney Sound Design
Sandy McDaniel Costume Design
Sylvia J. Pierce Props Design
Purchase Tickets Online
...or call us at (828) 239-0263. We're here to help!