By Christopher Durang
Winner of the 2013 Tony Award® for Best Play.
Middle-aged siblings Vanya and Sonia share a home in Bucks County, PA, where they bicker and complain about the circumstances of their lives. Suddenly, their movie-star sister, Masha, swoops in with her new boy toy, Spike. Old resentments flare up, eventually leading to threats to sell the house. Also on the scene are sassy maid Cassandra, who can predict the future, and a lovely young aspiring actress named Nina, whose prettiness somewhat worries the imperious Masha.
Hilarity, a bit of pathos, and just a touch of Chekhovian ennui ensue as the siblings, the boyfriend, the neighbor and the housekeeper navigate their increasingly complex relationships with one another.
Discretionary Content: Adult themes and Language
---
Please be aware that, as of 3/2023, NC Stage is still requiring masks of all staff, audience members, and volunteers. By purchasing a ticket, you are agreeing to this policy. Read more about this decision and our complete COVID-19 policy.
---
Performances are Wednesdays through Saturdays at 7:30pm
and Sundays at 2pm
This show has a runtime of 2:30 hours including one 15 minute intermission
Regular Ticket Pricing $26-$46/Student Tickets $10
Special ticket pricing is available during Preview Week (March 22-25)!
Read more about Preview Week here.
*Please note: we are no longer leaving empty seats between orders for the purpose of social distancing.
Please contact us if you have questions about our current COVID policy*
---
Virtual Livestream Tickets are NOW AVAILABLE!
Watch Vanya and Sonia and Masha and Spike from home or wherever you might be with the NC Stage Livestream broadcast through Broadway on Demand. Click below for more details and to purchase digital tickets.
*NOTE: Livestream tickets will be available for purchase until 90 minutes before the show*
Livestream dates: April 14, April 15, April 16
---
Onstage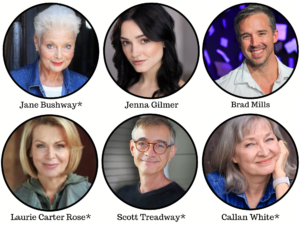 *denotes member of Actors' Equity Association
---
Backstage
Director: Charlie Flynn-McIver
Production Stage Manager: Amelia Driscoll*
Technical Director: Kenneth D. Horgan
Set Design: Julie K. Ross
Lighting Design: CJ Barnwell
Prop Design: Sylvia J. Pierce
Costume Design: Heather Gonzalez
Sound Design: Charlie Flynn-McIver
*denotes member of Actors' Equity Association
---
Playwright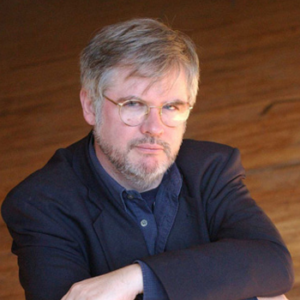 Christopher Durang
Christopher Durang's plays include A HISTORY OF THE AMERICAN FILM (Tony nomination, Best Book of a Musical), THE ACTOR'S NIGHTMARE, SISTER MARY IGNATIUS EXPLAINS IT ALL FOR YOU (Obie Award, Off-Broadway run, 1981-83), BEYOND THERAPY (on Broadway in 1982, with Dianne Wiest and John Lithgow), BABY WITH THE BATHWATER (Playwrights Horizons, 1983), THE MARRIAGE OF BETTE AND BOO (Public Theater, 1985; Obie Award, Dramatists Guild Hull Warriner Award), LAUGHING WILD (Playwrights Horizons, 1987), and DURANG DURANG (an evening of six plays at Manhattan Theatre Club, 1994, including the Tennessee Williams parody FOR WHOM THE SOUTHERN BELLE TOLLS). In 1996, he was commissioned by the Rodgers and Hammerstein Foundation to write a new book for the popular musical BABES IN ARMS. SEX AND LONGING was commissioned by Lincoln Center Theater and was presented on Broadway in fall 1996 starring Sigourney Weaver. THE IDIOTS KARAMAZOV, a full-length play with music written with Albert Innaurato, was revived at the American Repertory Theatre. His play BETTY'S SUMMER VACATION (Drama Desk Award nomination) had its world premiere at Playwrights Horizons in February 1999 to great critical acclaim and sold-out houses and was extended three times. It was the recipient of four Obie Awards, for distinguished playwriting, directing, acting, and set design. His new musical (with music by Peter Melnick), ADRIFT IN MACAO premiered at New York Stage and Film in the summer of 2002. MRS. BOB CRATCHIT'S WILD CHRISTMAS BINGE was commissioned by Pittsburgh's City Theater and had its world premiere in November 2002. In the early '80s, he and Sigourney Weaver co-wrote and performed in their acclaimed Brecht-Weill parody DAS LUSITANIA SONGSPIEL and were both nominated for Drama Desk Awards for Best Performer in a Musical. In 1993, he sang and tried to dance in the five-person Off-Broadway Sondheim revue PUTTING IT TOGETHER, with Julie Andrews at Manhattan Theatre Club. And he played a singing Congressman in CALL ME MADAM with Tyne Daly as part of "Encores." He can be heard on cast recordings of both productions. In movies, he has appeared in "The Secret of my Success," "Mr. North," "The Butcher's Wife," "Housesitter," "The Cowboy Way," "The Object of my Affection," "Simply Irresistible," and 'The Out of Towners," among others. For television, he wrote for a Carol Burnett special called "Carol and Robin and Whoopi and Carl;" and for PBS' series "Trying Times," he wrote a teleplay called "The Visit" starring Swoosie Kurtz as Wanda, the upsetting houseguest. He's written several screenplays, including "The House of Husbands" (co-authored with Wendy Wasserstein), "The Adventures of Lola" for Tri-Star and director Herbert Ross, "The Nun who Shot Liberty Valance," and his own adaptation of SISTER MARY… which aired on Showtime with Diane Keaton in the title role; and two sitcom pilots, "Billy and Meg" (for Fox Television) and "Dysfunction! – the TV Show" for Warner Brothers. He hopes one day they will be produced, perhaps in heaven. He has an MFA from the Yale School of Drama. Early in his career, he won a Guggenheim, a Rockefeller, the CBS Playwriting Fellowship, the Lecompte du Nouy Foundation grant, and the Kenyon Festival Theatre Playwriting Prize. In 1995 he won the prestigious three-year Lila Wallace Readers Digest Award; as part of his grant, he ran a writing workshop for adult children of alcoholics. Since 1994 he has been co-chair with Marsha Norman of the Playwriting Program at the Juilliard School in Manhattan. He is a member of the Dramatists Guild Council.
---
See you at the theatre!
Purchase Tickets Online
...or call us at (828) 239-0263. We're here to help!