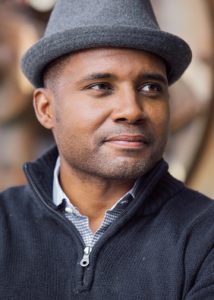 Last season, Mike Wiley performed DAR HE: The Story of Emmett Till on our stage. Now he returns with another full length piece, The Fire of Freedom.
The Fire of Freedom depicts the life of Abraham H. Galloway (1837-1870), a fiery young slave rebel, radical abolitionist, and Union spy who rose out of bondage to become one of the most significant and stirring black leaders in the South during the Civil War. Throughout his brief, mercurial life, Galloway fought against slavery and injustice. He also stood at the forefront of an African-American political movement, leading a historic delegation of black southerners to the White House to meet with President Lincoln and to demand the full rights of citizenship.
Actor and playwright Mike Wiley has spent the last decade fulfilling his mission to bring educational theatre to young audiences and communities across the country. In the early days of his career, Wiley found few theatrical resources to shine a light on key events and figures in African-American history. To bring these stories to life, he started his own production company.
"I'd like my work to not only enlighten minds but to inspire hearts"
– Mike Wiley
NC Stage audiences are one of many to have their hearts inspired by Wiley's work. His achievements extend far beyond North Carolina.  Throughout his career, he has presented 9 productions, played more than 180 characters, and performed for over 100,000 audience members.
Wiley's repertoire includes plays, podcasts, ensemble shows, collaborations, and films for which he has won 14 Film Festival Best Actor Awards. His work includes topics ranging from The Freedom Riders of 1961, the lives of families left behind when military loved ones deploy, the story of man who learned to read at 98, 1920s West Virginia coal miners, the fictional superhero Jade City Pharaoh, and the stories of real-life civil rights superheroes like Claudette Colvin.
Praise for Mike Wiley: 
"An intensely physical actor and writer who can turn on the charm like nobody's business." – Independent Weekly
"…a tour de force… a riveting evening of theatre" – Raleigh News and Observer
"A depth and clarity as distinct as an entire cast of players could make them… so packed that we are rapt from the very first word." – Classical Voice of NC
Read more about Wiley and his performances at mikewileyproductions.com