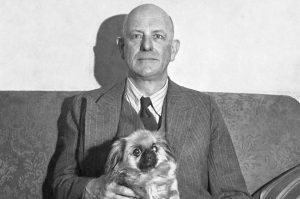 Sir Pelham Grenville Wodehouse (pronounced WOOD-house) was born in 1881 in Guildford, Surrey, England. After his education at Dulwich College, he began work as a banker but quickly left to pursue writing full time. He published his first book in 1902, titled The Pothunters. In 1914 he moved to America, though his tales retained their British charm and setting. By his death in 1975, it is estimated that he published 70 novels and 300 short stories, collaborated on 16 plays and adaptations, wrote books or lyrics for 23 musical comedies (including the acclaimed production Anything Goes), and penned the scenarios for 6 movies. In 1917, five of his musicals were simultaneously playing on Broadway. For his novels, he would often take over 100 pages of notes to map out the story prior to writing the actual tale. Wodehouse is most famous for his captivating humor, quick wit, absurd language, and plots filled with farcical scenarios for his iconic characters, including – of course – Bertie Wooster and his valet Jeeves.
Jeeves and Bertie are first introduced in a short story titled "Extricating Young Gussie." Originally published 1915 in the Saturday Evening Post, this anecdote later appeared in a collection of Wodehouse's work titled The Man With Two Left Feet. The story introduces Jeeves and Bertie, though notably, Jeeves only has two lines. The pair appear in a total of 35 short stories and 11 novels. Most of the short stories were published between 1915 and 1930. The first Jeeves novel, titled Thank you, Jeeves, was published in 1934. The final Jeeves novel was published in 1974 when Wodehouse was 92 years old.  
Jeeves has become a cultural icon. He is aptly titled "the gentleman's gentleman." Interestingly enough, Webster's dictionary defines "Jeeves" as a word meaning "a valet or butler, especially of model behavior." In the 1990s, prior to Google, Ask.com had a service called "Ask Jeeves" where the character would fetch information for you based on your query. 
Spin offs of Wodehouse's original stories range from tv shows to movies to theatrical productions. The first appearance of Jeeves on screen was a 1936 film by Joseph Hoffman and Stephen Gross titled Thank you, Jeeves, whose plot differs markedly from Wodehouse's novel by the same title. Many years later, in 1990, Hugh Laurie and Stephen Fry starred in the award winning BBC comedy series Jeeves and Wooster. When it comes to play adaptations, Wodehouse himself (in collaboration with Guy Bolton) wrote a play titled Come on, Jeeves which premiered in 1954. In 1975, TONY award winner Andrew Lloyd Webber wrote a musical called By Jeeves, which initially flopped in the UK. The production was re-adapted in 2001, simply titled Jeeves, and produced in the US. In 2006, playwright Margaret Raether wrote Jeeves Intervenes, the first of 5 Jeeves spinoffs in her series, all later produced by NC Stage. 
To learn more about P.G. Wodehouse and his following, visit  www.wodehouse.org
To reflect on NC Stage's Jeeves productions throughout the years, visit www.ncstage.org/uncategorized/celebrating-jeeves-5th-year/