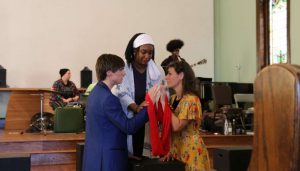 North Carolina Stage Company's touring production of Romeo and Juliet recently received national recognition when an article from Asheville's local news outlet, the Citizen Times, made its way to MSN.com.
"despite the stripped-down nature of Community Tour performances — with minimal props and costumes, NC Stage's actors give riveting performances that transport audiences to, in this season's case, the streets of Verona, where two star-crossed lovers meet and embark upon a fateful romance." – Citizen Times via MSN.com
"It's about respecting the intelligence and capacity of all audiences, providing the best experience possible at each location and being fully present with everyone we meet. The whole point is connection, connecting individuals and communities through theater." – Michelle Carello, Associate Artistic Director
Having performed in locations such as the Haywood Street Congregation Sanctuary (see image) , Swanannoa Correctional Center, Veterans Home of North Carolina, and Care Partners Adult Day Care, the touring show will host a two-week run at the NC Stage theatre from May 29 – June 9th. Click below for to reserve your tickets today!
General admission, limited seating available.